>> Sunday, December 6, 2009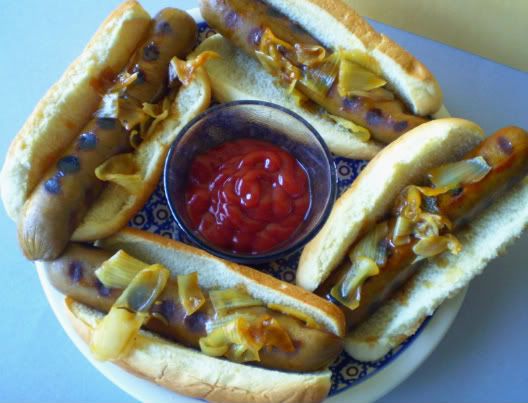 Level of Difficulty: Easy
Pots/Pans Used: 2!

Ingredients
1 pkg Tofurkey Beer Brats
1/2 onion, diced
1 bottle beer (brand of your choice)
water
buns

Sorry, I know it's been kind of a while since my last post, but with the holidays, final exams and lack of groceries I haven't had the time. But I'm back!
I was recently at a friend's house when they decided to make traditional wisconsin beer brats. It seemed like a pretty simple recipe to veganize so when I got home I made my own version. It's a really great hardy meal that doesn't take much time to whip up.
In a large stock pot, place the brats inside and pour the entire bottle of beer on top of them on medium-high heat. Then add water until they are covered completely and drop in the onion. Bring to a boil and then reduce heat. Let it simmer until you feel the brats are heated through and the onions begin to caramelize. This may take about 15 minutes. Next, either on a grill or grill pan (I used a grill pan), grill the brats on all sides. Keep the sauce simmering, so that it begins to thicken. Once the brats are grilled, place them back in the pot to coat with the sauce. Let them sit in the sauce for a few minutes. Finally, just pop them in a toasted bun and top with the caramelized onions and your favorite condiments!