>> Saturday, December 18, 2010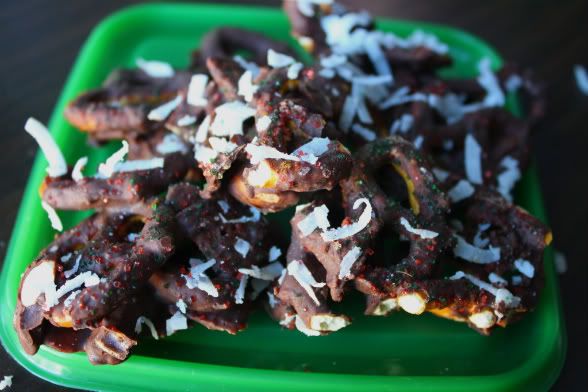 Level of Difficuty: Too easy
Pots/Pans Used: only ONE!

Ingredients

parchment paper
1 8oz bag of semi-sweet dark chocolate chips
1 TBL vegetable oil
2 cups of pretzels
2 cups wheat chex cereal
1 cup peanuts
shredded coconut
cinnamon/nutmeg
red & green sugar and/or sprinkles (optional)

You know that feel-good recipe that your mom ALWAYS makes around the holidays? Well my mom makes White Trash every year. Apparently, it's a pretty popular recipe. Traditionally, it is made with white chocolate (hence the name, "White Trash"). However, since vegan white chocolate is hard to come by, I've made this jazzed up dark chocolate version. It's just about one of THE easiest recipes you will ever make.




Using a double boiler, Melt an 8 oz bag of dark chocolate chips with the oil. Add the pretzels, cereal, and peanuts into the melted chocolate. Stir until it is evenly coated. Spread it out onto a cookie sheet covered with a sheet of parchment paper. Flatten the trash out as much as you can. Sprinkle cinnamon and/or nutmeg on top. Then sprinkle the coconut. I like to add either red and green sugar on top or sprinkles just to give it a pop of color and make it a little more festive. However, that step is optional. Now let it harden in the fridge. Once it has set up, break into pieces and store in Tupperware. It's that easy, people!