>> Wednesday, July 25, 2012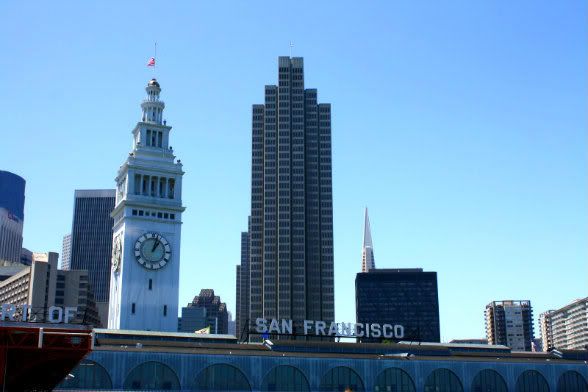 I've been in California for only a little over two days now and I've already eaten so much food that I think I should start this saga sooner rather than later so as not to get too far behind. This trip comes at a perfect time because I haven't been much in the mood for cooking lately... But for some reason, eating at awesome vegan restaurants seems to be something I can handle right now.



Naturally, we had ice cream for breakfast at
Bi-Rite
. Appreciating the Morrissey reference, we opted for the "Everyday is Like Sundae" (Chocolate Coconut Ice Cream with Blueberry Compote, and Newman O's). If you get there later in the day, expect to see a line out the door. It was pretty empty when we went, but it was breakfast time soooo........
Then we lunched at
Cha-Ya
, a vegetarian Japanese restaurant. Being a big sushi enthusiast, this was kind of a dream come true for me. But ultimately, while the agedashi tofu was awesome and I appreciated all the creativity put into their menu, it definitely wasn't the best sushi I've ever had.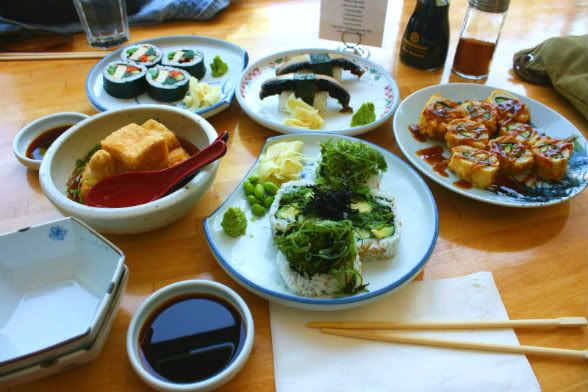 Agedashi Tofu with grated daikon and ginger
Vegan Roll
Portobello Nigiri Sushi
Cha-ya Roll
The gardens are really beautiful and worth a visit.
The farmer's market offers excellent views of the bay bridge...
AND some of craziest mushrooms I've ever seen.
This is a completely candid picture of Lindsey shot after her first bite>>> Proof it was unbelievably delicious.
Followed up with greens dressed in chipotle dressing, almonds, roasted peaches, and queso blanco toasts. Everything tasted super fresh.
Phew! that's it for now. I'll check back soon.