>> Sunday, September 13, 2009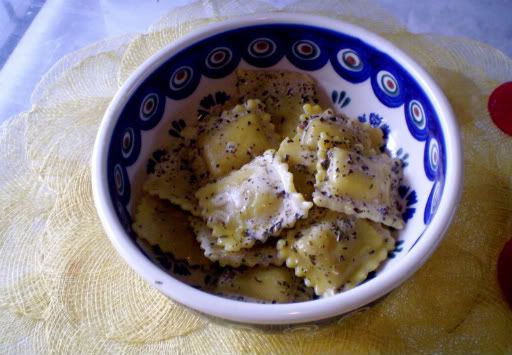 Level of Difficulty: EASY
Pots/Pans Used: 2

Ingredients
1 pkg. Frozen Butternut Squash Ravioli (I used Rising Moon Organics)
2 tbl. Earth Balance
2 tbl. White wine
2 tsp. Basil
1 tbl. Sour cream (I like Toffuti, Better Than Sour Cream best)
salt & pepper to taste

It's difficult to find a ravioli that's vegan, but I spotted Rising Moon Organics Butternut Squash Ravioli in a Whole Foods once and decided to try it out (I've also seen it at Publix). The package is a little stingy if you're serving two very hungry people, but it's well worth a try in my opinion.

Preparation of the pasta is fairly self explanatory... just follow the directions. The Ravioli will take only about 8 minutes. While the ravioli is going, put a medium-sized frying pan over low heat. Add the butter, and let it melt down completely. Then, add the white wine & basil and mix well (Due to my inability to keep basil alive, I didn't have fresh basil on hand, but I'm sure either would work just fine). Next, add the sour cream and mix until the sauce becomes a milky color. Now, the sour cream is meant to add a bit of texture to the sauce, but if you don't have it on hand, this recipe is just as satisfying without it. Finally, toss the drained ravioli in the frying pan to thoroughly coat with the sauce, and you're ready to eat! If you would like to get some veggies in there as well, I recommend mixing some asparagus heads in with the ravioli before serving. All in all, it takes about 10-15 minutes.