>> Monday, October 12, 2009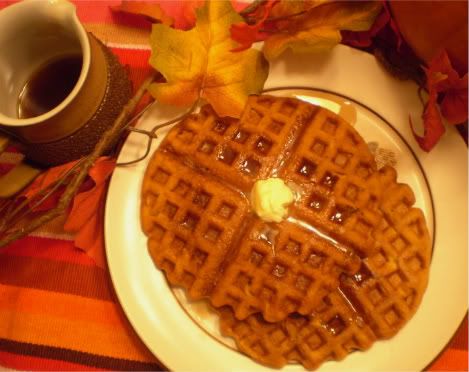 Level of Difficulty: EASY
Pots/Pans Used:3

Ingredients
1 1/4 cup flour
1 1/2 tsp baking powder
1/2 tsp baking soda
1/4 tsp salt
2 tsp ground ginger
1/2 tsp cinnamon
1/4 cup finely chopped crystalized ginger
1/2 cup cinnamon apple sauce (feel free to use regular apple sauce. I just like cinnamon)
3/4 cup soy milk
1/2 cup pumpkin puree
1/2 cup sugar
3/4 tsp vanilla extract
3 TBL Earth Balance, melted and slightly cooled

My mom and I found this recipe in a magazine and decided it looked so good, we needed to try it immediately. Luckily I only had to make a few minor adjustments in order to "veganize" the meal. Also, the ingredient list is pretty common. The only thing you may need to go out of your way to buy is the crystalized ginger (I found mine at Whole Foods). Let me start by saying that although this dish is reeeeeeaaaally yummy, it does require you to be fairly enthusiastic about ginger. I happen to be extremely enthusiastic about ginger, but I'm just offering a small warning for you non-enthusiasts. The ginger is really what makes these waffles special though. So instead of cutting it out, I recommend using a smaller portion if you're not in love with the stuff. By the way, this recipe makes about 5 large waffles.
To begin, Combine flour, baking powder, baking soda, salt, ground ginger, and cinnamon together in a large bowl. Remove 2 TBL of the minxture and toss with with the crystalized ginger in a small bowl. Set aside. Whisk the applesauce, soy milk, pumpkin, sugar, and vanilla in a medium-sized bowl. Combine with the flour mixture. Then, stir in the butter and then fold in the reserved crystalized ginger mixture. Don't over mix! Heat a waffle iron and make waffles, using about 1/2 cup batter for each waffle. When ready, slather it with some Earth Balance and maple syrup!