>> Friday, October 30, 2009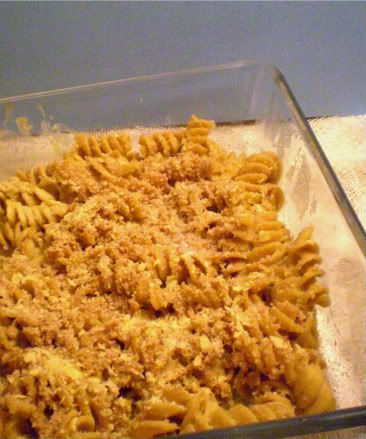 Level of Difficulty: easy
Pots/Pans Used: 3!

Ingredients
2 cups boiling water
1/2 cup soy margarine (may need a couple extra TBLs)
1/2 cup flour
1/4 teaspoon of salt
1/4 tsp nutmeg
Dash of turmeric
1/2 cup of nutritional yeast (plus a little extra)
1 box rotini pasta, cooked
1/4 cup panko japanese bread crumbs (or homemade bread crumbs)

I made this the other night when I was craving a creamy pasta dish. I just needed to figure out how to come up with a recipe using only what I had on hand. Now, I have had many many delicious mac & cheese recipes from various vegan cookbooks. However totally yummy, they tend to require a lot of ingredients and at least a food processor. So if you want a quick, uncomplicated meal, I would certainly give this one a try.
Cook pasta and begin separately boiling the 2 cups of water. Preheat oven to 350 and start making the cheese sauce. In a large saute pan or wok, melt margarine over medium heat. Once melted, gradually whisk in the flour. It is very important that you whisk, otherwise the consistency will be all wrong. The flour should be gradually thickening the sauce. If it starts to clump up and solidify, you can add some more margarine. Then add boiling water a little bit at a time, remembering to still whisk (NOTE: You do NOT need to use all the water). Just add water until it is the consistency of gravy. Next mix in the the salt, nutmeg and turmeric. Then, gradually whisk in the nutritional yeast. Toss the pasta with the sauce and then transfer it to a casserole dish. sprinkle the bread crumbs and some extra nutritional yeast on top. Bake for 15-20 minutes. Soooo Satisfying!

By the way, This can easily be converted to a gluten-free dish by excluding the bread crumbs, using gluten-free pasta and rice flour.