>> Sunday, November 8, 2009

Level of Difficulty: Requires some effort
Pots/Pans Used: 3!

Ingredients
1 pre-made pie crust, chilled

For Filling:
5 ripe pears, sliced
1 1/2 cups fresh cranberries
1/3 cup sugar
3 TBL cornstarch
2 TBL fresh lemon juice
1 tsp grated lemon zest
1/2 tsp vanilla extract

For Topping:
12 gingersnap cookies, crushed
1 stick margarine (8 TBL), melted & cooled
1 cup flour
1/3 cup sugar
1/3 cup light brown sugar
1/8 tsp ginger
1/8 tsp salt

I've decided to begin posting some recipes that would work well for Thanksgiving. That way, you can start getting some ideas for what you'd like to make. This recipe was generously passed down to me by the Rees family. Let me start by saying that everytime I have made this pie, everyone wants the recipe... It's so good. The pear, the cranberries, the ginger... it all works so well together. It is actually pretty simple to make too. I took a bunch of pictures of this one simply because the colors of the pears and cranberries are really awesome together. Please try this recipe, you're going to melt.


Preheat oven to 350. To create the filling, combine the pears, cranberries, vanilla, lemon juice & zest in a large bowl. combine the cornstarch and 1/3 cup sugar in a smaller bowl. Once combined, add to the large bowl and mix together. For the topping, combine all ingredients except the margarine in a medium bowl. Then, add margarine. It will begin to thicken and stick together. Finally, pour the filling into the pie crust and then the topping on top.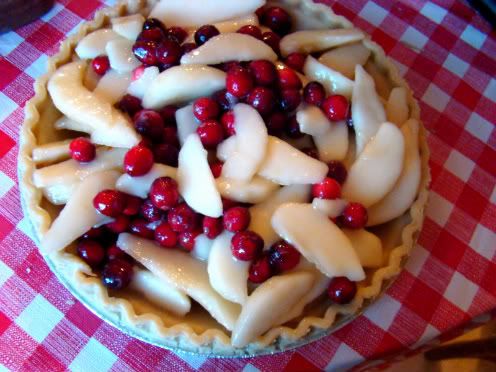 You may not need all the topping, you just want it to cover the filling. Put pie on a baking sheet and bake for 1hr 15-30 minutes. You want the topping to become nice and golden and the filling to bubble over the sides of the pie. Let it cool and serve it up. It tends to fall apart more like a cobbler than a pie, but it tastes all the same.