>> Saturday, January 16, 2010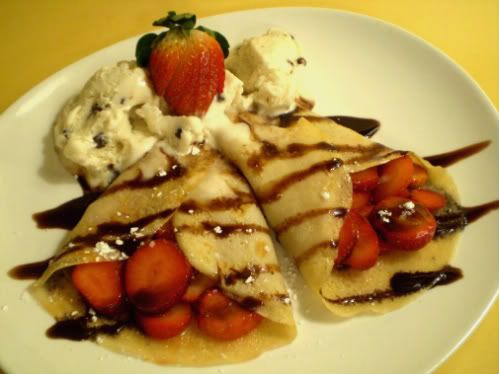 Level of Difficulty: surprisingly simple
Pots/Pans Used: ONE!
Ingredients
Basic Crepe Recipe:
1 cup flour
1/2 cup soymilk
2/3 cup water
1/4 cup melted Earth Balance
1 tsp vanilla (not necessary for savory crepes)
(makes about seven crepes)
Filling:
1 carton strawberries, sliced
2 TBL agave nectar
cinnamon
(enough to fill about 5 crepes)
Garnish (optional):
chocolate syrup
scoop of favorite ice cream
powdered sugar
SOOOOO ridiculously good! I used to go to this great little creperie in Ybor city but since I've been vegan, I haven't enjoyed a crepe in over a year so this was such a great treat. Now that I know how easy they are to make, I'll be tying out some breakfast, lunch, dinner and dessert crepes. if I come up with any more crepe ideas, I'll post them. And if you have any ideas, be sure to leave comments...
Whisk all the crepe ingredients together in a bowl and then let it chill in the refrigerator for about 30 minutes. mix the sliced strawberries and agave nectar together while the crepe mix is chilling. Here is a
video
showing how to cook your crepes, if this is your first time. You'll wanna cook them in a non-stick skillet over medium heat. You don't have to go as fast as they do. But basically, it's that simple! Put your strawberry filling into the crepe and sprinkle some cinnamon on top of the filling. Fold the crepes in whatever fancy way you see fit. Feel free to come up with your own creative filling and garnish. The ingredients listed are just an idea. Worked for me :)