>> Monday, February 15, 2010


Level of Difficulty: some assembly required
Pots/Pans Used: 2 bowls


Ingredients

1 cup Earth Balance
1 cup brown sugar
1 cup vegan white sugar
3 cups flour
1 tsp baking soda
1 TBL molasses
2 egg substitutes
2 tsp vanilla
1 can Pillsbury cream cheese frosting (Caution: Has been brought to my attention that this may contain milk now)
chocolate chips to your hearts desire

This is an awesome recipe to show off to someone who doesn't think vegan food can be delicious or taste better than cardboard. So I made these for my boo and I on Valentine's yesterday... hence the pink frosting. I was actually really pleased with these cookies. So, if you're just looking for a cookie recipe this works great too. I have been eying babycakes nyc's cookie sandwiches for quite a while. Because I don't have the means to try them, I decided to come up with my own easier and way less healthy recipe.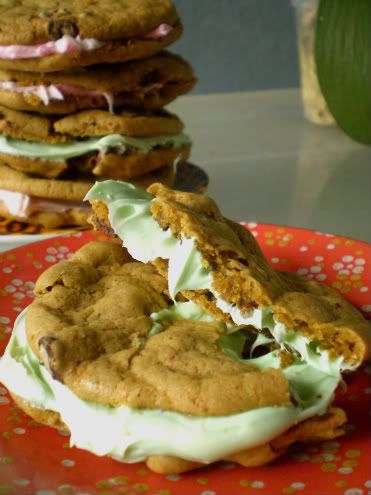 First, put the frosting in the refrigerator so it can firm up!!!! Preheat oven to 350. In a large bowl, cream earth balance with all sugars. Then add egg substitute, molasses and vanilla. In a separate bowl, mix together flour and baking soda. Add the dry mixture in gradually with the wet mixture. Once well mixed, add the chocolate chips. On an ungreased baking sheet, make tablespoon sized drops of batter a couple inches apart. bake for 15 minutes. Once the cookies are cooled, you can start assembling the sandwiches. Pour a glass of soymilk and enjoy!