>> Wednesday, April 14, 2010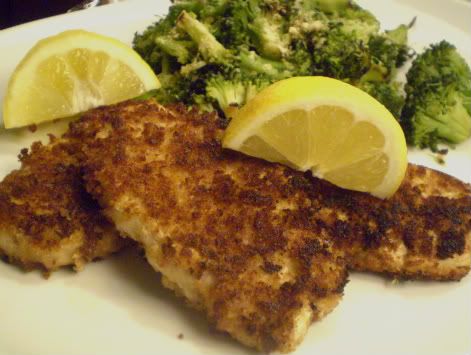 Level of Difficulty: easy
Pots/Pans Used: 1


Ingredients

1 pkg of 4 Gardein chick'n filets
3 TBL water
1/4 cup lemon juice ( plus a lemon for garnish)
1/4 tsp oregano
whole wheat bread crumbs
flour
3 TBL oilve oil
pinch of salt

My mom grew up in Argentina, so when we went back to visit when I was seven, all I remember eating was milanesa with a side of papas fritas and a fanta. I ate that probably three times a day and I now find myself missing it occasionally. It only seemed right to try and veganize it. Basically, milanesa is a very thin cut of usually beef (but sometimes chicken or veal), battered and shallow-fried in oil. Lemon and oregano are popular ways of seasoning the meat. Now, my version is very loosely based on milanesa (you'll know what I mean if you google image search it) but I assure you, the flavors and yumminess still remain.

In a bowl, combine the lemon juice, water and oregano. Take each chicken breast and dredge it in flour, then the lemon juice mixture and then coat it in bread crumbs. Heat the oil in a skillet over medium-high heat. Fry each chick'n breast a couple minutes on either side until golden brown. Place the breast on a paper towel to let the oil drain. Sprinkle the chick'n with a pinch of salt. Serve with your favorite veggies and slices of lemon.