>> Thursday, April 22, 2010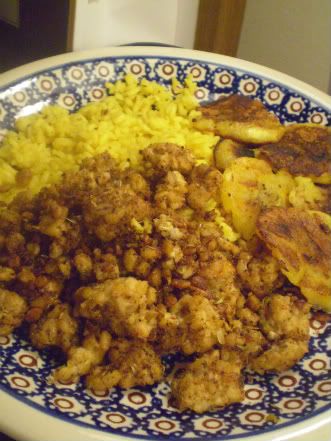 Level of Difficulty: pretty easy
Pots/Pans Used: 2!

Ingredients

1 tsp garlic powder
1 tsp onion powder
1/2 tsp agave nectar
1/2 tsp salt
1 tsp allspice
1/2 tsp ginger
1/2 tsp chili powder
1 tsp dried thyme
1 8 oz pkg of tempeh
olive oil
plantains (opt)
cinnamon (opt)

I got the vegan cookbook, Fire & Spice, over the holidays and finally decided to make something from it. This recipe is inspired by the Jamaican Jerk-Spiced Tempeh Nuggets recipe, but I changed it up slightly to make it more "lazy cook-friendly". Pair it with some yellow rice and fried plantains and it was THE perfect dish. It's really filling AND takes less effort than you would think. I just about doubled the spice measurements from the cookbooks but if you aren't keen on spice, you could always tone it down or experiment with similar flavors that are less spicy.

First, you might want to start preparing your rice if you're having it. Next, heat some olive oil in a large saute pan over medium heat. Crumble the tempeh into the pan and let it brown on both sides. Meanwhile, combine all the ingredients from garlic powder thru thyme in a bowl. Spinkle the spice mixture over the browned tempeh and let it get thoroughly coated. Continue to mix it up for about a minute and it's done. Set it aside and heat more oil in the pan on medium-high heat so that you can fry up for plantains. I cut my plantains into slices then press or smash them down with a fork. Once the oil is really hot, add your plantains to the pan. Be careful that they don't burn. Once they're nicely browned and crispy on either side, place them on a paper towel so that the oil can drain. Sprinkle some cinnamon over top. Serve your rice, tempeh and plantains all mixed up together on one huge plate and eat your heart out!