>> Monday, May 24, 2010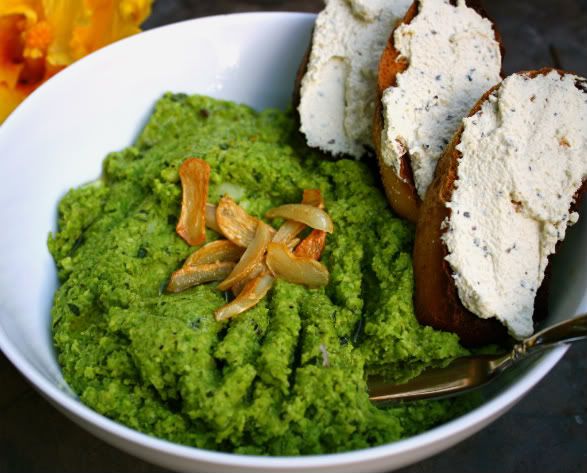 (YAY! If you can't tell, I finally saved up enough to purchase my new camera!)

Level of Difficulty: Effort Required
Pots/Pans Used: 3ish

Ingredients

1 16 oz pkg frozen sweet peas
1 12 oz pkg frozen sweet soybeans, shelled
1 TBL olive oil
4 cloves garlic, sliced
2 TBL lemon juice
1-2 tsp coarse black pepper
1/2 tsp sea salt
1/4 cup snipped fresh mint
french baguette, sliced and toasted

Ricotta cheese:
1 pkg extra firm tofu
1/4 cup nutritional yeast
1 tsp salt
2 cloves garlic, minced
1/2 cup water
1 TBL lemon juice
1 TBL basil


My mom found this recipe in the February issue of Better Homes and Gardens and together, we found a way to veganize it. Being that Sunday was the LOST finale (tear), we had some friends over and made a great spread of food which started with this as the appetizer. Any fellow LOSTies out there?

Start by microwaving the peas and soybeans and then transfer them to the food processor to puree. Should resemble this texture...


Heat the olive oil in a small skillet over medium heat. Cook sliced garlic until tender and browned. Mix the pureed mixture with the garlic, s & p, mint and lemon juice.


To make the ricotta, place all the ingredients in the food processor. Process until it resembles the texture of ricotta cheese. Place the ricotta on the toasted baguette slices. Drizzle the pea mixture with olive oil and sprinkle some extra black pepper. Spread the mixture on top of the ricotta toasts and you've got a colorful and healthy appetizer.