>> Friday, May 21, 2010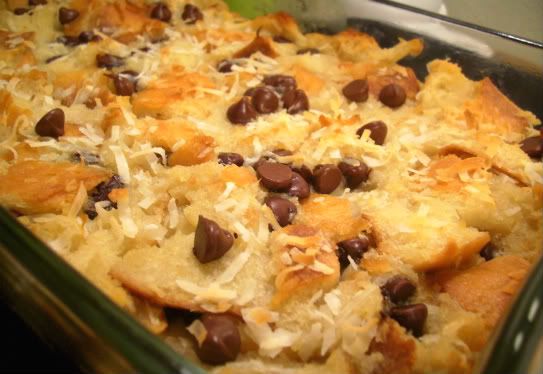 Level of Difficulty: You just have to know how to measure!
Pots/Pans Used: 1 or 2


Ingredients

1 french baguette, ripped into bite-size cubes (makes about 5 cups)
1 can coconut milk (1 3/4 cups)
1 cup original soy creamer (can probably sub soymilk)
1/4 cup agave nectar
1 tsp vanilla
1/2 cup vegan chocolate chips
1/2 cup shredded coconut

My first ever attempt at a bread pudding was a banana bread pudding and I was extremely underwhelmed. So when attempting round two I had some skepticism. Let me tell you, forget my first failure, this bread pudding rules! Seriously, it was so moist and rich and totally satisfied my sweet tooth. My only critique is that it needs more coconut, but I pretty much can never get enough coconut. If you don't like coconut, you can easily make this recipe without, and the same goes for the chocolate chips. Happy Baking...




Preheat oven to 350. In a large bowl, combine ingredients coconut milk - vanilla and whisk together. Submerge the bread cubes in the liquid and let them soak for five minutes. Then, mix in the chocolate chips and shredded coconut. Pour the mixture into a small, greased casserole dish. Sprinkle some more coconut and chocolate chips on top. Bake in the oven for 30-40 minutes. After 30 minutes, check on it to see if the coconut is toasting and the bread is getting golden. Mine needed about 10 extra minutes. Serve warm and be prepared to slip into yet another food coma.