>> Tuesday, June 22, 2010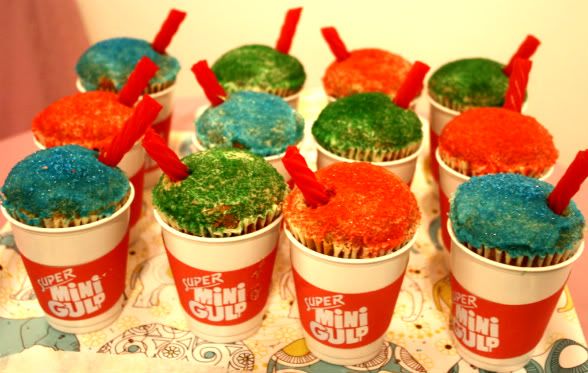 On June 18th, Etsy invited people to throw their own Etsy craft parties all over the globe to celebrate their birthday. Tampa just so happened to be having the third largest Etsy party. Did anyone else attend Etsy craft parties??? Etsy's cute invite pictured below: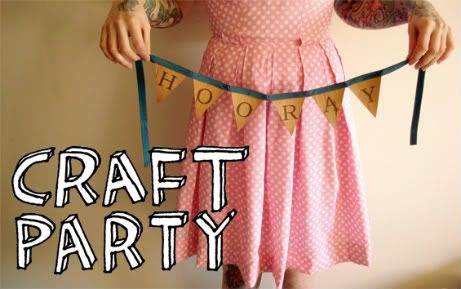 One of the events at the party was a cupcake decorating contest and I brought these babies. That's right, Super Mini Gulp Vegan Lemon Poppy Seed Cupcakes. Yeah, that's a mouth full... har har. bad joke.




Anyways, when I arrived I found out the contest had been canceled which was kind of a bummer. BUT I had a lot of fun making them and now I can just pretend I won. If you're interested in making these cupcakes all you need is crystal sprinkles in various colors, Redvines for straws (I found Redvines at Target, because Twislers aren't vegan), and 5 oz white kitchen cups (I made the little labels in Photoshop).

Not only were the cupcakes cute, but they tasted pretty spectacular so I thought I would include the recipe for you guys.

Lemon Poppy seed Cupcakes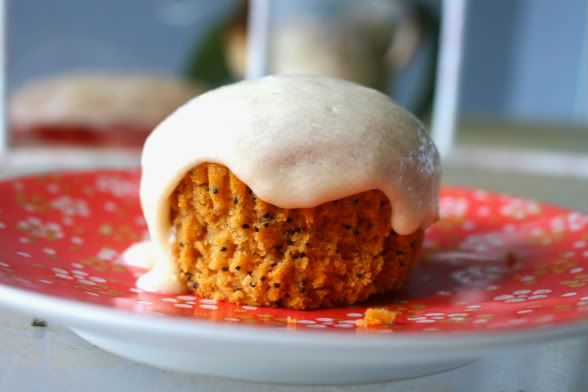 Level of Difficulty: pretty easy
Pots/Pans Used: 2-3ish

Ingredients

2/3 cup almond milk
1/2 tsp apple cider vinegar
2/3 light agave nectar
1/3 cup canola oil
1 1/2 tsp vanilla extract
1/2 tsp lemon extract
1 1/3 cups flour
3/4 tsp baking powder
1/2 tsp baking soda
1/4 tsp salt
1 TBL poppy seeds

Frosting

3 cups powdered sugar
3/4 cups vegan margarine
1/8 cup almond milk
1/4 tsp lemon extract

I really wanted to make sugar-free cupcakes, and although the actual cupcake batter is sweetened with agave, the frosting obviously calls for powdered sugar. Almost every recipe I found for agave-sweetened frosting required soy milk powder which I haven't been able to find, or some other kind of specialty ingredient. Anyone have a good sugar-free frosting recipe? This frosting is a little more like an icing. I recommend letting it set up in the refrigerator because it's a little runny. This recipe only made about 9 cupcakes, so I if you want more I recommend doubling it.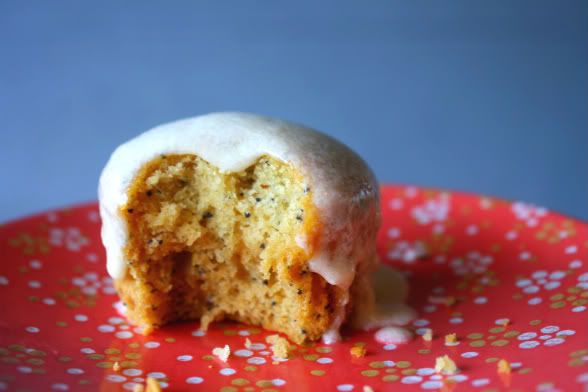 Okay! Start out by preheating your oven to 325. Mix almond milk with apple cider vinegar and let it sit for five minutes, until it begins to bubble. Whisk in the agave, oil, vanilla, and lemon extract. Mix in flour, baking powder, baking soda, salt and poppy seeds. Whisk until smooth. Fill your cupcake liners 2/3 of the way full. Bake 22 minutes. Meanwhile, you can start on the frosting. Just blend all ingredients together with an electric mixer, adding the powdered sugar gradually. Fini!

*Just a side note: If you're avoiding sugar, they make great muffins without the frosting!