>> Monday, June 14, 2010
I've been wanting to start doing restaurant review posts occasionally and I'm finally doing it. Don't worry, this will remain a recipe blog, just with a very sporadic veg eating out post every once in a blue moon. Where is our first veg place? The Loving Hut




Have any of you heard of them before? Apparently, they are an international vegan chain! I'm so glad that even exists. Well, the only one I can really vouch for is the one they JUST opened in Tampa (located at: 1905 East Fletcher Avenue Tampa, FL 33612). Most of the food is Asian, but they also offer some non-traditional dishes like Spaghetti with Meatballs, a Philly Sub, Seafood Fettuccine Alfredo (yes they have vegan shrimp and I can't wait to try it) and Tofu Scramble.

It's only been open about two weeks and they are still working on their menu. I've already gone twice since Saturday. It's seriously inexpensive and the staff is so nice! They even had us try a recipe they are thinking about putting on the menu and were open to our feedback. I took some pics of the yummy food with my camera phone, so please excuse the poor quality.

Okay so what I ate...

Actually, let's talk about what I drank, an Iced Rose Cappuccino. First, it's beautiful and second, it was delicious and a flavor combo I've never had before!




We got the Golden Nuggets as a starter (YUM!)




My boyfriend got the Energy Wrap, which was a pretty standard veggie wrap, but had a nice helping of avocado which gave it a great creamy texture. Wasn't dry like wraps can often be.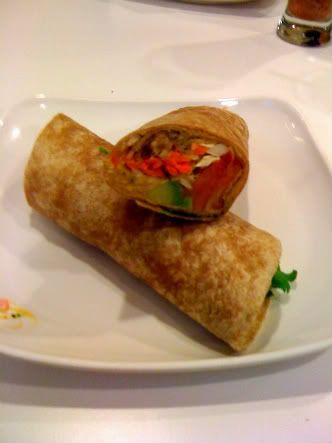 I was also able to try the Philly Sub, which if you're vegan is quite out of the norm. It had a really good creamy sauce, carrots, "steak" and cilantro. That was DELICIOUS! It was pretty spicy though so beware. Usually I think I can handle spice, but this might have been a little too much for me. However, someone else I was with wasn't too bothered by the spice so... maybe I'm just a wimp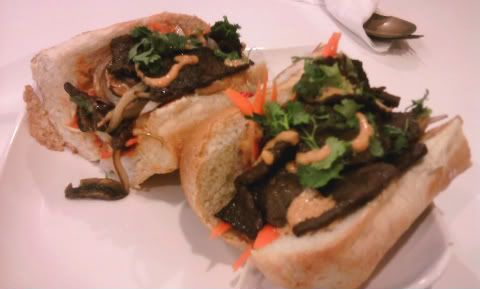 Next there was the Sweet and Sour Joy. The sauce was really nice and the "pork" was really good, I just wished there was even more of it. It was also served with peppers, pineapple and a side of white rice.




Finally... the Scrambled Tofu with potatoes, peppers and onions. You have NO IDEA how happy I am that there is FINALLY a vegan breakfast option in Tampa! I love love love love love going out for breakfast and am always jealous of my Gainesvillian friends who get to eat tempeh scramble to their hearts desire at Bagels Unlimited whenever they please. Regardless of how happy I was to have a breakfast option, it was actually pretty fantastic! The potatoes were just like home fries and the scramble had so much more flavor than I expected. Granted it's the only breakfast option and they don't actually open until 11am but I'm not complaining!




They are still planning for their grand opening, so look out for it! By the way, I would love to meet some of you. All us Tampa people should plan a big meet up for lunch or something :) Feel free to email me if you're interested in doing something like that.