>> Friday, July 9, 2010
Onward to VP's second official restaurant review! And here we are with a new(ish) restaurant in my home town... Darbster!


loctaed at:
8020 South Dixie Highway
West Palm Beach, Florida 33405

Darbster is a relatively new restaurant to the West Palm Beach area. One thing I will say is that they are constantly improving on their dishes and mixing up the menu. To be honest, when I first ate at Darbster (when they were fairly new), I thought it was just okay. Between my first and second visits, they had clearly been listening to customer feedback and tweaking the recipes because the second time I went (and every time since), I am always just gushing over the food.

One of my FAVORITE things about Darbster is their Sunday Brunch. Whenever I'm visiting home, I try and go every Sunday. I wish more places would offer vegan breakfast food! The atmosphere at Darbster is probably one of my most favorite things about it. The restaurant is technically all outdoors. They have a bar and some tables under a canopied area and then a patio area with tables overlooking water. Somehow it feels so relaxing and I truly feel like I'm on vacation when I'm eating there. They often have really nice live music and you can always bring your dogs! (Oliver loves Darbster too!) They were so nice and even grilled up some vegan chikn' for him once. In general, Darbster is just the kind of place you would want to become a regular at.

Now let's talk about food... All of my pictures are of dishes on the brunch menu.

Palm Cake Sandwich with Aioli, Lettuce and Roasted Red Potatoes. Oh god, where do I begin?!? The palm cakes are clearly one of Darbster's signature dishes and rightly so. If you go to Darbster and only get one thing... get the Palm Cake Sandwich. I believe this sandwich is only offered on the lunch menu or during Sunday brunch. However, palm cakes are always offered on the dinner menu as an appetizer or entree with a lemon pine nut sauce. Are you salivating yet?




Last Sunday, I got one of their specials, the Tofu Scramble Paired with a Hollandaise Sauce, Lentil Cake, Sausages and Roasted Potatoes. OH MY GOD. I have been waiting for a dish like this all my life. Nuff said.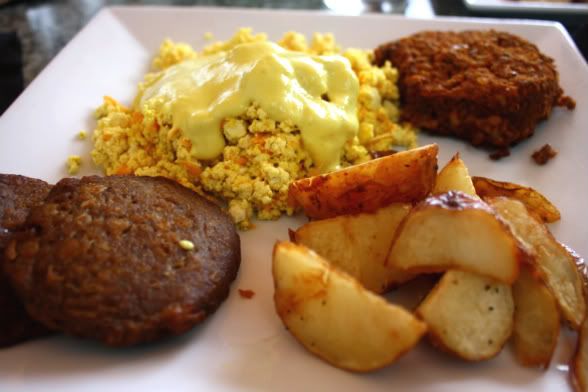 My boyfriend got another one of their specials this week, the Spicy Orange Chipotle Chick'n Skewers with Corn Salsa and German Potato Salad. So light and flavorful. Yet again, another home run!




My mom had another special. I can't remember exactly what was on it it, but I know it was a Steak Sandwich. It had some kind of horseradish spread with veggies and German potato salad on the side. It was really yummmmy...




Lets not forget the French Toast with Fruit and Vegan Whipped Cream (a little melted but still delicious)!




And we HAD to finish with something sweet, The Bananas Foster. Bananas Foster is one of my favorite desserts so I'm easy to please. This was especially good because I think they used a scoop of coconut ice cream that really worked with the dish. I could be wrong, but I think it was coconut. I was so excited about digging in, that I forgot to take a picture... so this is halfway through when I realized...




I'm also partial to the Fried Chikn' Sandwich, Sliders, French Fries & Onion Rings, and Raw Tostadas!

In summation, go to Darbster if you live in the area... or even if you don't! It's moderately priced, the staff is always friendly, and the food is always good. They offer gluten-free and raw dishes as well so there's really something for everyone at Darbster. Here is a link to their facebook where they update often about specials and events going on. Let me know what you think if any of you visit...