>> Saturday, July 3, 2010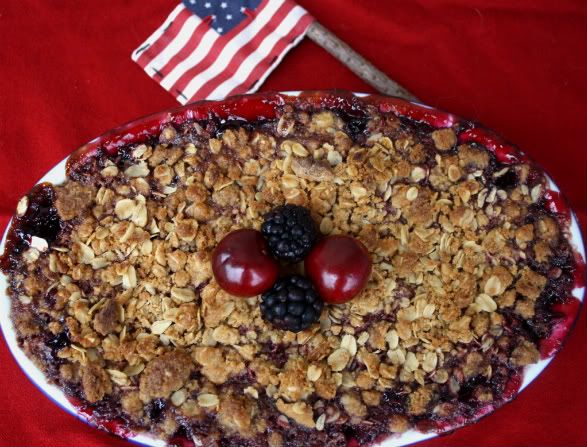 Level of Difficulty: quick and simple
Pots/Pans Used: two!

Ingredients

Filling:
1 1/2 cups blackberries
1 1/2 cups cherries, pitted
1/2 cup sugar
1/4 cup water

Crumble:
2/3 cup oats
1 cup ginger snaps, crushed
1/2 cup flour
1/2 tsp ginger
1/2 cup light brown sugar
4 1/2 TBL melted vegan margarine

I know, I know... leave it to me to do a 4th of July post on the 3rd. Late as usual, but yummy nonetheless. Hopefully, some of you have time to make some of these dishes for your get togethers tomorrow but if not... who cares. They taste good no matter what day of the year you make them on! This cobbler is really quick. I did make it in a rather small dish so I would say it might serve 4-5 people. You could always double it if you're making it for a large group. Good luck!

Preheat oven to 400 degrees. Combine filling ingredients in a saucepan and bring to a boil so that it gets thick. Reduce heat and let simmer for about 10-15 minutes. Meanwhile, in a bowl, combine all the crumble ingredients except for the margarine. Finally, add the melted margarine last and mix up the crumble so that it is all well coated and begins to stick together. Pour the filling into your small glass dish, then top with the crumble. Place the dish on top of a baking sheet lined with tin foil (it WILL bubble over). Bake for 15-18 minutes. Let cool and serve with some ice cream!!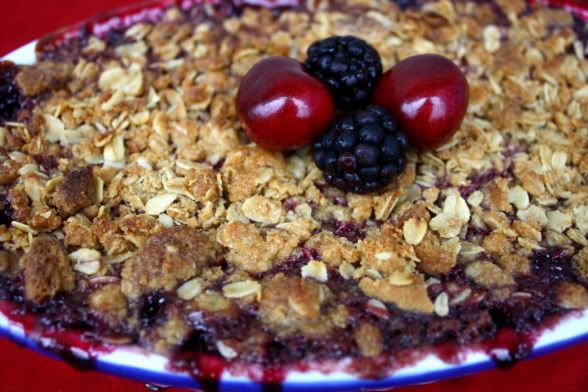 I've compiled some of my VP recipes that I think would make for a great 4th of July feast.

For a refreshing drink you could offer these "Pina Colada" Smoothies to your guests



As for some light appetizers you might try...

Broiled Stuffed Mushrooms



or Homemade Crispy Pita Chips with Guacamole



For the main dish, I would go with something simple like my Homemade Bean Burgers. You could always jazz em up with avocado, "cheese" and other condiments. French fries wouldn't hurt either ;)



This Strawberry & Spinach Salad would be PERFECT!



and of course, end on a good note with this red, white and blue Summer Berry Cobbler or even my Cheesecake recipe which you could decorate with strawberries and blueberries for the 4th of July spirit.



Enjoy and happy 4th!!!!!