>> Tuesday, November 30, 2010
Vegan on a cruise? Yes, it's possible.




My cousin and I just turned 21, so we went on a cruise to the Bahamas with our family to celebrate. I thought I would share my experience being vegan on the cruise with you all in case you were curious. Seriously people, it's so possible!

First, you should know that we took the Norwegian Sky Cruise, so I really can't vouch for any other cruise lines. However, I can't imagine that they would be very different as far as trying to accommodate alternative diets. Let me start by saying that not only was there plenty for me to eat, but the food was actually good.... like... excellent even!

Now, the buffet gets a little tricky to navigate because you can't be certain exactly what's in everything. However, if you eat at the restaurants and let them know what you can't eat ahead of time, they will make special accommodations for you. Seriously, they actually said "what would you like us to make for you?"..... so you don't just have to settle for fries and a salad. Just to be safe, I fibbed and told them I was allergic to eggs and dairy. That really hit home because they made sure to ask the chef about all the ingredients. So to the best of my knowledge, everything I ate was 100% vegan.

Since it was a 21st celebration, we have to start out with drinks. This was their special drink one day called, "Cool Runnins" (best movie) which was a combination of fresh bananas, pineapple and rum.




Then of course there's my favorite, the pina colada...




For appetizers I had some spring rolls that were out of this world. Unfortunately I didn't get any pictures, but trust me, they were pretty too. Other than that, I had pineapple that was marinated in Rum with a mojito mint syrup and topped with shaved coconut. This was actually served with a cream, but they were nice enough to make me a dairy-free version from scratch.




Then another night I had the Mediterranean fruit with Amaretto... complete with Peaches, Plums and Grapes!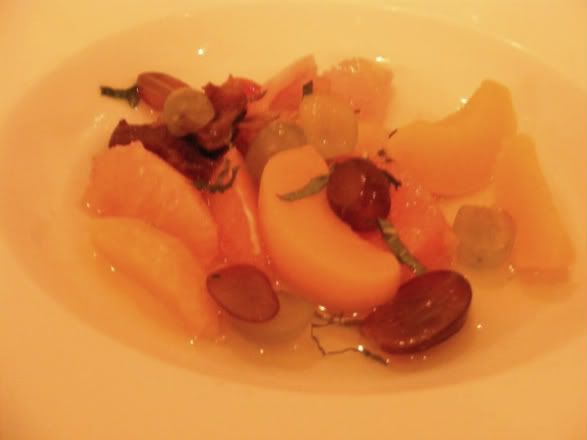 They also offered vegetable tempura on the menu. However, their batter had egg so instead they brought me lightly steamed and seasoned veggies with an excellent scallion-ginger dipping sauce and wasabi rice wrapped in nori...




Salad with a Sherry Walnut Dressing and Candied Walnuts




Moving on to entrees...
They brought me a spread I couldn't believe. One plate was enough.... but three!? Can you tell we were in awe?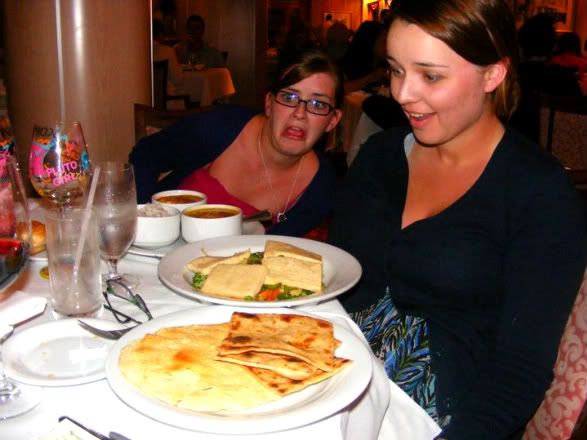 First they brought out spicy veggies with crispy fried tofu. I know, it looks kind of boring but it was so much more delicious than I expected...



Obviously it was good judging by the left overs ;)



They also prepared me a tofu curry, a potato lentil stew and rice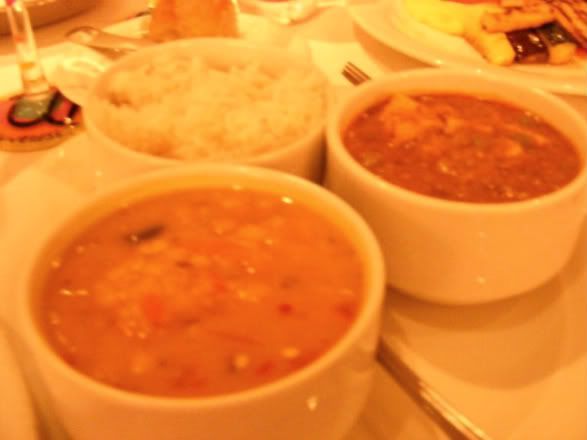 ...Complete with naan and lentil crackers




Vegan dessert is hard to come by anywhere let alone out at sea. However, two nights they offered a delicious sherbet. The first night was a decadent strawberry and then the last night I had lime (pictured below). If sherbet won't cut it for your sweet tooth, I recommend doing what I did and bring along a couple vegan chocolate bars or candy so you can fulfill that craving.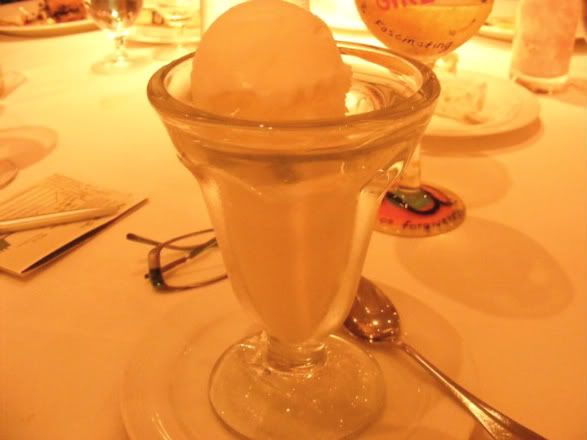 And here we all are, incredibly stuffed, posing with the waiter that was nice enough to accommodate me!




All in all, being vegan on a cruise is possible. I even ate better food than I normally do. So my advice is, talk to someone ahead of time, let them know your dietary restrictions, and they will take good care of you from there.