>> Sunday, November 21, 2010
Pumpkin Squash Soup




Level Of Difficulty: Easy but some prep work required
Pots/Pans Used: 3

Ingredients

3 cups butternut squash, cubed
olive oil
2 pinches cinnamon
s&p

2 TBL Earth Balance
1 onion, chopped
4 carrots, sliced
1 can chickpeas
2 cans of pumpkin puree
1 can coconut milk
4 cups vegetable stock
1 tsp ginger
2 tsp curry powder
1/2 tsp salt
1/4 tsp pepper
3/4 tsp cinnamon




There is this tea house in Tampa that makes an awesome Pumpkin Soup and I decided it's probably as good a as time as any to try and make a version of it. My version is actually pretty different, but still packs a bunch of Autumn punch. Hope you enjoy it...




First you want to preheat your oven to 400. In a bowl, coat your cubes of butternut squash with a couple TBL of olive oil, 2 pinches of cinnamon, and salt & pepper. If you want, you can cube the whole butternut squash, bake it, and just set aside whatever you don't use for the soup. That's what I did. If you do decide to do that, I provided a quick little recipe below this that you can use the extra squash in. Lay the cubed squash out on a baking sheet and bake 15 minutes, move them around, and then another 15 minutes. Meanwhile, you can get the soup started. First, melt the Earth Balance and saute your onions and carrots. Once tender, add chickpeas, coconut milk and pumpkin. Let this simmer a couple minutes and then add the veggie stock, ginger, curry powder, salt, pepper, and cinnamon (Whenever your squash is done, add that into the mix as well). Let the whole thing simmer for 20-30 minutes and then serve! I like it best with a side of rice to dunk in.

Leftover Squash?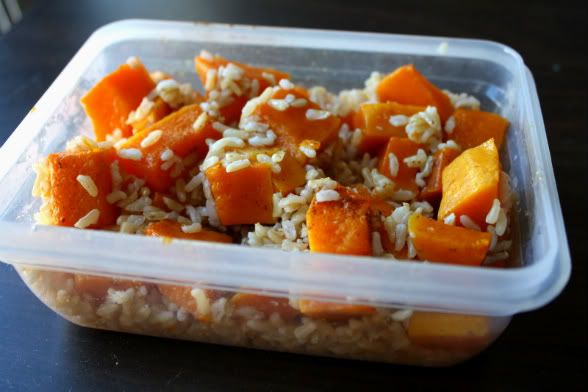 Now, like I said, if you want to bake the whole squash to take for lunches or use in other recipes, that's great too. Here is a really simple recipe I whipped up to bring to work as a lunch. Just combine the squash with some brown rice. Sprinkle some cinnamon and drizzle some maple syrup over top. Mix it up and you've got a delicious side.

Sweet Potato Balls




Level of Difficulty: Quick and Easy but you will get messy!
Pots/Pans Used: 2ish

Ingredients

1 pkg Sweet & Sara Toasted Coconut Vegan Marshmallows (or you can use plain vanilla)
4 sweet potatoes
1/2 cup orange juice
1/2 tsp cinnamon
1/4 tsp nutmeg
1/4 cup maple syrup
cornflakes (frosted or unfrosted, up to you!)

Here is a dish that can easily replace a sweet potato casserole, while still providing that ooey gooey marshmallow goodness. This recipe was recommended to me by one of my friends, Lindsey Mills of soul food, a while back. It's actually originally a Paula Dean recipe (if you can believe it), but it's super simple to veganize. Here is my version...




Makes about 12 Sweet Potato Balls

WARNING: you will get messy. In either an oven or a microwave, soften your sweet potatoes until they are mushy and good for mashing. Remove the skin and in a large bowl, mash em up. Add the orange juice, cinnamon, nutmeg, and maple syrup and stir well. Preheat oven to 350. Then take your marshmallow and form a ball of mashed sweet potato around it. This is the really messy part because it seems to stick to everything. Now roll the ball in cornflakes and set it on a baking sheet. Repeat until you run out of sweet potatoes. Bake them in the oven for 15 minutes. Keep an eye on them though, because the marshmallow will expand and sometimes burst out of the ball. Once they're done, dig in!




Have a great Thanksgiving, everyone!