>> Monday, January 24, 2011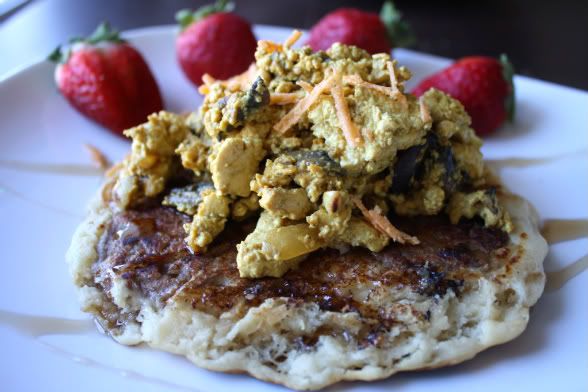 Level of Difficulty: easy
Pots/Pans Used: two!

Ingredients

Pancake mix (I used Aunt Jemima's Original Mix. However, you can always make yours from scratch)
Egg Replacement
Gimme Lean Sausage
Maple Syrup
1 pkg Extra Firm Tofu, drained
1/2 Onion, chopped
8 oz Mushrooms, sliced
3 Cloves Garlic, minced
1/4 cup Nutritional Yeast
1 tsp Curry Powder
Turmeric
1 TBL Earth Balance
1 tsp Soy Sauce
Cheddar Daiya Cheese (optional)
s&p to taste

This little gem came to be while watching an episode of Man V. Food. We've all been there.... do you want pancakes for breakfast or eggs with sausage/bacon? Sweet or savory? Well, a restaurant came up with a dish to satisfy everyone's taste buds. That's right, the sausage is cooked INTO the pancakes and then topped with scramble. It's a fun way to jazz up a classic meal. Now, the non-vegan version is basically a heart attack waiting to happen. The vegan version is just as filling but relatively guilt-free. Hope you guys have fun with this one...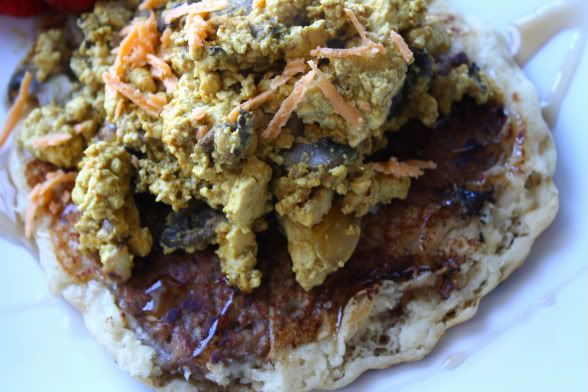 I started out by making the tofu scramble (This makes an entire package of scramble so you can keep some for leftovers). In a skillet, melt Earth Balance over medium heat. Add the garlic and onions. Once they're translucent and fragrant, add the mushrooms and let them get nicely seared on either side. Add soy sauce and mix well. Crumble the Tofu into the pan and mix it all up. If you want to, add some Daiya cheese at this point and let it melt into the scramble. If you feel the scramble is too dry, feel free to add a TBL of water. Add the curry powder, sprinkle some turmeric for color, nutritional yeast and s&p. Meanwhile, brown a few sausage patties. When you're making the pancakes, just let it cook for a few seconds and bubble. Next, place the sausages into the batter and after a few more seconds, flip the pancake like you normally would. To assemble, top the sausage pancake with some maple syrup and a generous serving of tofu scramble. Feel free to sprinkle with some Daiya. Ta Da!