>> Sunday, January 30, 2011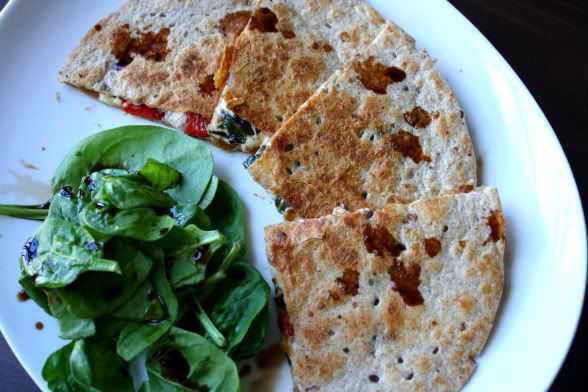 Level of Difficulty: SO SIMPLE
Pots/Pans Used: one

Ingredients

Whole Wheat Tortillas
Daiya Mozzarella Cheese
1 cup Fresh Spinach Leaves
1/4 Roasted Red Pepper, Chopped
Balsamic Vinegar
olive oil
2 garlic cloves, minced
Sprinkle of:
Pepper, Red Pepper Flakes, and Ground Oregano

I literally JUST finished eating this for lunch and had to post it right away simply because it was so yummy. This is one of those "I desperately need to go grocery shopping... let's see what I can make out of the few ingredients left in my fridge" recipes. Honestly, i want another one!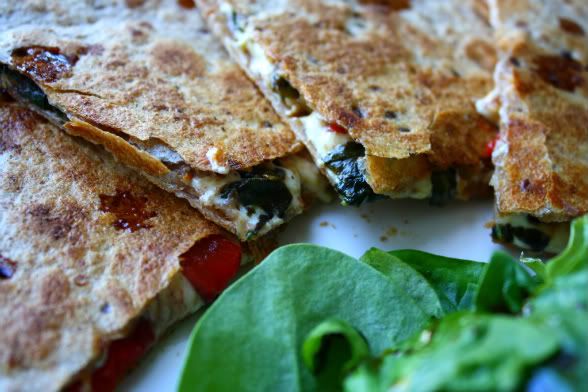 In a skillet, heat a little olive oil over medium heat and add the garlic. Let it saute for a couple minutes. Next, add the spinach. Once the spinach has reduced significantly in size, sprinkle a pinch of the pepper, red pepper flakes, and ground oregano on top. Saute 30 more seconds. Set aside the Spinach. In the same pan, place one tortilla. Top it with a generous portion of Daiya cheese, the sauteed spinach, the roasted red pepper, and drizzle some balsamic vinegar over top. Then sandwich the other tortilla on top. Flip the tortillas. You'll know that it's done once the cheese is completely melted and the quesadilla is browned on both sides. For presentation purposes, you can drizzle some balsamic vinegar on top and garnish with a small spinach salad!