>> Saturday, April 30, 2011

Level of Difficulty: easy
Pots/Pans Used: 1

Ingredients

Topping:
1 cup diced fresh pineapple
1 TBL Earth Balance
2 TBL coconut milk
pinch black pepper
pinch cinnamon
maple syrup

Pancakes:
1 & 1/4 cup Aunt Jemima's Original Pancake & Waffle Mix
1 cup coconut milk
1/4 cup shredded coconut (optional)
1 TBL vegetable oil
2 tsp baking powder
(makes about 6 medium-sized pancakes)

Saturday was my first official day of summer. So I woke up and decided to celebrate by turning my favorite summertime drink into pancakes. Um yeah... they turned out kind of crazy good.




In a small bowl, mix together oil, baking powder and two TBL water. In a large bowl, combine the baking powder mixture with all remaining pancake ingredients. Melt a little butter in a skillet over medium heat and pour about a 1/4 cup of batter into pan. Once it bubbles, flip. Repeat!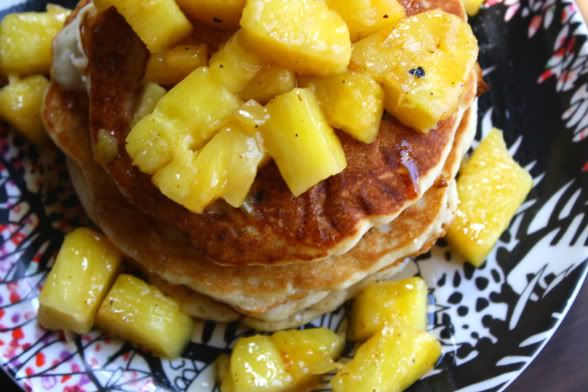 Now that you've gotten all your pancakes accounted for, start on the topping by melting 1 TBL butter over medium heat in the same skillet. Add the pineapple and saute for a few minutes. Then, add the pepper, cinnamon, and coconut milk to the pan. Saute another minute and let the coconut milk thicken up a bit. Spoon the pineapple topping over the pancakes and drizzle with some warm maple syrup. Enjoy!