>> Saturday, May 7, 2011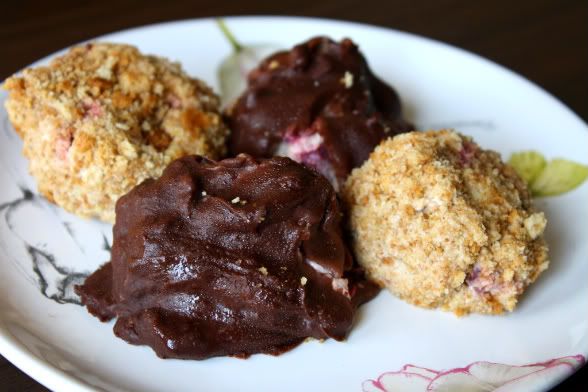 Level of Difficulty: easy
Pots/Pans Used: 2

Ingredients

1 cup finely chopped fresh strawberries
2 tubs Tofutti's Better Than Cream Cheese
1 TBL agave nectar
Box of Graham Crackers
Bag of Chocolate Chips

I HIGHLY recommend spoiling your mothers tomorrow with these decadent little truffles! I came up with them when I was going to a potluck last week and was trying to come up with a unique dessert idea. I thought back to one of my biggest crowd pleasers, Oreo Truffles, and realized I could make a lot of different variations of them. Once I landed on the idea of making them into strawberry cheesecake truffles, there was pretty much no turning back. I don't mean to toot my own horn, but these are INSANE.




Put about 15 Graham Crackers in a bag and crush them. Mix the graham crackers, cream cheese, strawberries, and agave in a large bowl.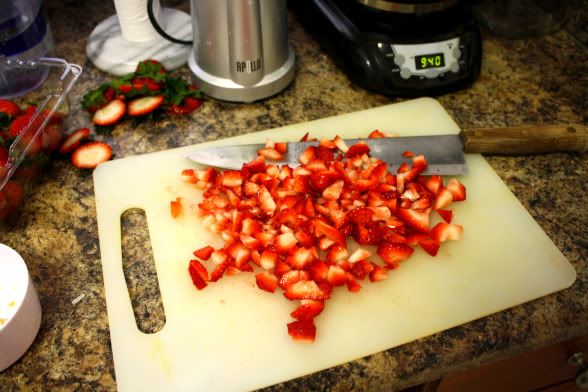 Lay out a piece of parchment on a baking sheet. Roll the mixture into small balls and set on the baking sheet (this is a pretty sticky process but just power through). Using a double boiler, melt the chocolate chips. Using some fancy spoon maneuvering, roll the cheesecake balls into the chocolate. Don't worry so much about them looking pretty, cause they taste great regardless. You can make two different varieties by rolling some of them in crushed graham crackers. Place them back on the parchment and let them firm up in the refrigerator.