>> Wednesday, June 8, 2011


I realize I've been doing a lot of reviewing lately so I'm trying to dedicate more time to cooking and less time to eating out. That being said... I've gotta get this outta my system! I just had to show off the pictures from my first visit to Babycakes while I finish writing my Mexican Stuffed Shells recipe post (which will be up in the next couple days... so stay tuned!).

Last week, I was in Orlando with a friend seeing Bonnie Prince Billy play. I'm not usually in that area, so I made sure to take a quick trip to Downtown Disney after the show was over. The original location of Babycakes is in NYC, but they recently replaced a MCDONALDS (!!!!!!!!) in Downtown Disney.

The actual store was tinier than I was expecting, and after seeing all the charming photos of the NYC shop, I was a little underwhelmed with the presentation. That being said, I'm sure they had more restrictions with this location. Besides, you get the charm of DISNEY!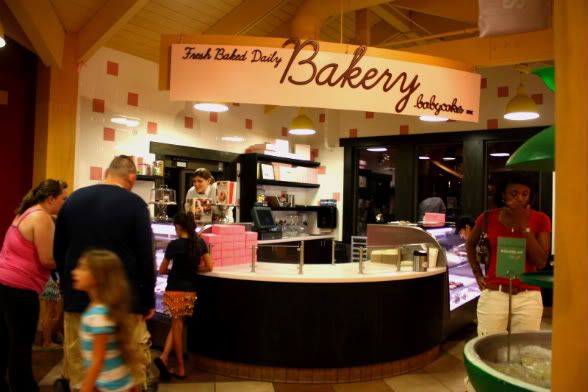 We tried the Red Velvet Cupcake and the Cookie Sandwich. Both were excellent but the cookie sandwich definitely stole the show. I'm not even really a "cookie person" seeing as I don't usually really like a cookie unless it's either almost burnt or doughy and undercooked. But this cookie was thin, had a nice crunch to it, AND came complete with super yummy frosting inside... so I had no complaints!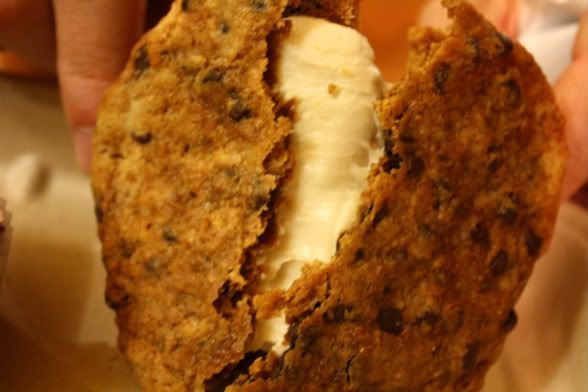 One thing I thought was kinda neat was that it was the only dessert option in the cafeteria-like setting. So, lots of people were flocking to it, not even knowing it was vegan. I just secretly wish all the customers found out at some point though... Preferably after they "oohed and awed" about how good the cookie sandwich was ;)

All in all, it was a really good experience for ma taste buds! Besides, where else can you eat a vegan cookie sandwich AND see Planet Hollywood's Gizmo replica all within walking distance from each other??? (<<< um, my heaven) Worth it! :D