>> Friday, June 10, 2011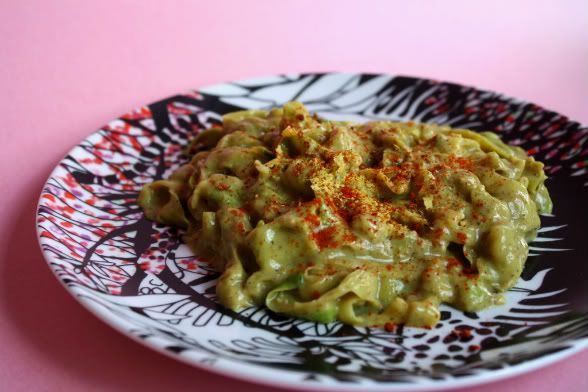 Pots/Pans Used: two
Level of Diffuculty: Whisking muscles required!
Ingredients
3 Zucchinis, peeled
1/4 cup Earth Balance
2 TBL Whole Wheat Flour
1 1/2 cups Unsweetened Almond Milk
1/2 tsp curry
1/4 tsp onion powder
1 TBL nutritional yeast
pinch tumeric
pinch paprika
s&p to taste
red pepper flakes to garnish (optional)
Okay, I'm putting the "Mexican Stuffed Shells" post off for a hot minute because I made this for dinner last night and I just had to share! A few months ago, I decided to stop buying pasta. It had become my go-to easy dinner and I knew I was eating too much of it. Surprisingly enough, I ended up losing almost ten pounds as a result! That being said, I still always crave pasta. I mean, it is my comfort food. So I'm always looking for ways to satisfy the craving with alternatives. For example, sometimes I make
Spaghetti with Spaghetti Squash
, or just season brown rice the same way I would pasta. But I have been wanting to make my own zucchini noodles for a while now. It was so simple! And yummy! Once you've made the cream sauce, you could season it however you want really. You don't necessarily have to do a curry sauce.
Now lemme get this straight... I can eat as much as I want without the guilt? yes, please!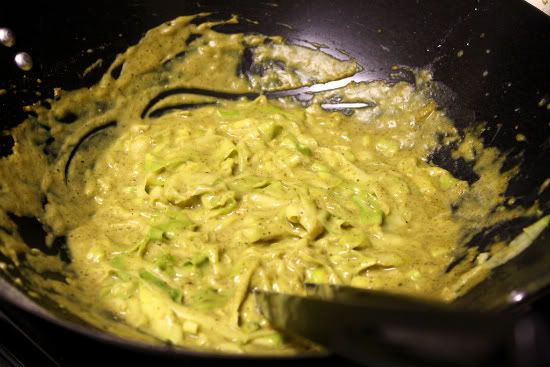 First, peel long strips of the flesh of the zucchini. Toss them in a pot of boiling water for a few minutes and then drain. Meanwhile, you can start on the sauce. Melt the Earth Balance in a large saute pan over medium heat. Whisk in the flour so that it absorbs the butter. Then, gradually whisk in the milk. I would add it 1/4 cup at a time and once it would begin to thicken, I would add another 1/4 cup. Once it reaches the consistency of an Alfredo sauce, add the curry, turmeric, s&p, onion powder, nutritional yeast, and paprika. Mix well and then add the noodles into the sauce. Toss until well coated. Then, serve with some nutritional yeast, red pepper flakes, and paprika to garnish. Voila!