>> Wednesday, July 20, 2011

Level of Difficulty: so easy
Pots/Pans Used: 2

So, before we get into the ingredients and instructions... lemme preface this by saying that this is a Paula Deen recipe... dun dun dun. I mean really, NEED I SAY MORE? This may in fact be the most un-vegan-iest vegan recipe EVER. So, if you feel like being reeeeaaalllly bad, make this cake because it's totally insane (and surprisingly simple).

Essentially, its an entire cake comprised of buttermilk biscuits that have been filled with cream cheese, dipped in melted butter, and rolled in sugar...(crickets)...
.....
.......
............
................
................... I know, that's what I said!!!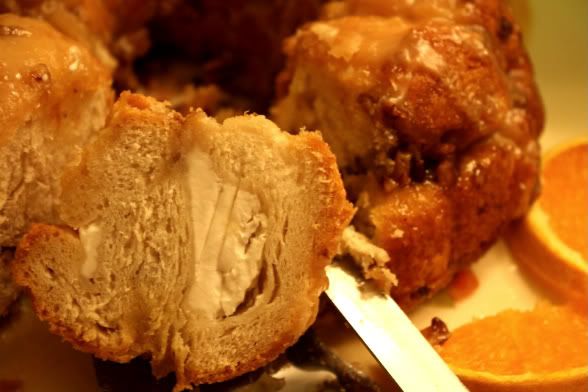 Anwyays, I threw a little Summer dinner and dance party shindig and this cake seemed like the puuuuuurfect dessert. Plus, that way I knew I couldn't eat it all myself. Not to mention, this recipe is a great conversation starter. I overheard a couple people saying "I know, isn't it awesome? Did you hear what's in it?!"




So here ya go, the now infamous vegan recipe... (To vegan-ize, I just used store bought buttermilk biscuits that were coincidentally egg/dairy free, Tofutti's Better Than Cream Cheese, and Earth Balance).

Stay tuned because I have lots more recipes from my summer dinner party coming!