>> Thursday, August 25, 2011

Level of Difficulty: In need of a watchful eye
Pots/Pans Used: 1-2

Ingredients

6 1/2 cups strawberries, chopped
2 1/4 cups vegan sugar
4 TBL fresh lemon juice
2 1/2 TBL fresh basil, finely chopped

Last week I made jam for the first time. I think I was inspired by my North Carolina trip this summer after seeing tons of interesting jam flavors in all those quaint little country shops. I loved canning so much that I think I might even start selling some fun jams on my etsy shop. Would anyone be interested in something like that? For those vegans that are strict on sugar, you'll be happy to know that all the jams I sell will use certified vegan sugar! But first, I'd love to get some feedback from you guys...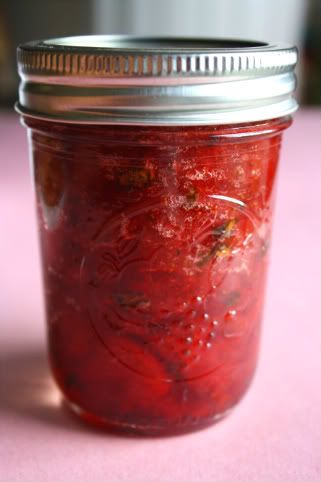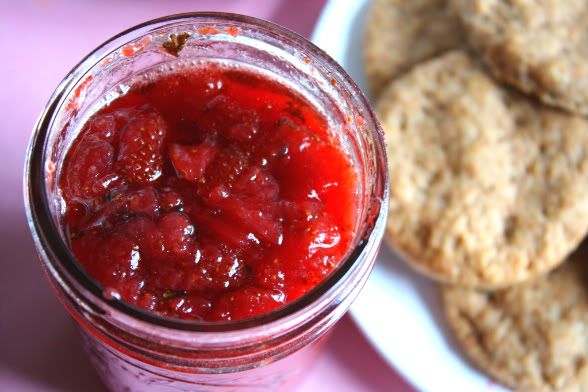 This makes a relatively small batch of jam (about 3 8oz jars). While you're making your jam, I recommend putting your jars in a big pot of boiling water. Combine strawberries, sugar, and lemon juice in a large skillet and bring to a boil. Continue to stir as it thickens up. After about 8 or so minutes, lower the heat once it's begun to thicken up a bit. You can test to see if it's gelled up by dabbing a bit on a cold plate and tipping it after a few seconds to see how slowly it runs. Once it's begun to gel, stir in the basil and let it cook another 2-3 minutes. Now, it's done and you can fill your jars. In order to preserve the jam longer, you can submerge the now full jars (tops on!) in a big pot of boiling water for ten minutes. I made some Whole Wheat Biscuits from The Kind Life cookbook (I love them and they're so easy!) to pair with the jam. Enjoy!