>> Saturday, January 28, 2012
So you may or may not have noticed that I took a bit of an impromptu blog break over the holidays. The holidays can be tough as a veggie, so I hope you all made it out alive and well. Personally, I had a great break, which I spent eating awesome veg food with family and friends. The highlight of my break was finally getting to meet my lil' baby cousin, Charlie. Isn't she cute!?
To make up for lost time, here are a few recipes that I created over the break that I hope you all enjoy.
Sugar Cookies
Ingredients
Cookies:
2 3/4 cups flour
2 tsp baking powder
1/4 cup apple sauce
1 1/2 cups sugar
1 cup vegan Earth Balance, softened
3/4 tsp vanilla extract
3/4 tsp almond extract
Icing:
2 cups powdered sugar
1/4 tsp peppermint extract, according to taste (or any flavored extract)
1/2 tsp vanilla extract
3-4 TBL almond milk (as needed until you get the consistency you want)
Food coloring optional

Just because the holidays are over doesn't mean you can't make these awesome sugar cookies. In fact, if you have some heart-shaped cookie cutters, these would be perfect for Valentines Day. Bake em' up for your sweetie (or yourself if you don't have a sweetie) cause they're yummy AND CUTE!


Preheat oven to 325°F. Coat baking sheets with cooking spray, or line with parchment paper. Combine flour and baking powder in one bowl. Cream together Earth Balance and sugar with a mixer until fluffy. Beat in vanilla & almond extracts, and apple sauce until smooth. Gradually add the flour mixture into the wet and beat until soft dough forms. Divide dough into two balls. Roll out on floured surface about 1/4 inch thick. Cut out shapes and repeat until all douhg is gone. I got about 30-35 cookies with one batch. Transfer onto baking sheet and bake for 15-17 minutes (or until lightly browned around edges). Let then cool and then transfer to a wire rack.
For the icing, I used peppermint extract for the holidays but you might want to try something different, or nothing at all. With whatever flavoring you use (ESPECIALLY peppermint), add the TINIEST bit at a time cause it can very easily overpower the icing. Add the almond milk into the powdered sugar until it is the desired texture and then add the flavoring. Finally, decorate!
Second, I offer up this awesome pairing of
Bruschetta and Olive Tapenade...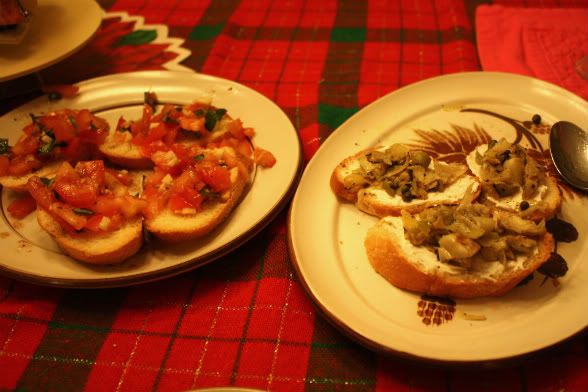 Ingredients
french bread
Bruschetta:
tomatoes, diced
garlic, minced
fresh basil, chopped
balsamic vinegar (drizzle)
daiya (optional)
Olive Tapenade:
artichoke hearts, chopped
jalapeno-stuffed olives (or regular), diced
capers
lemon juice
olive oil
black pepper
vegan cream cheese
Everyone LOVED these when I made them over the holidays, especially the olive tapenade so I highly recommend making it.
Both preparations are really simple. I didn't really measure, so you're gunna have to try and go with your gut. You're going to want to start by slicing your bread, brushing some olive oil on it, and then popping it in an oven at 350 until it gets toasty.
For the bruschetta, just combine tomato, garlic, and fresh basil in a bowl. The garlic and basil should just be accents to the tomato, so don't go overboard. Then, scoop it on top of the toast and (if you want) sprinkle some Vegan Mozzarella Daiya Cheese on top and stick them under the broiler until it melts. Then drizzle some balsamic vinegar over top.
For the tapenade, I recommend having 1/2 artichoke to 1/4 capers to 1/4 olives. But you can obviously play with the measurements. Combine in a bowl and sprinkle some lemon juice and black pepper on top. You probably wont need to add any more oil to it, but if it's looking dry, add a drizzle. Spoon them over toasts that you have spread cream cheese on and voila!
Third, my new favorite way to eat Salad
Ingredients
arugula
Gardein "Chik'n" Scallopini
sliced Hearts of Palm
nutritional yeast
Dressing:
olive oil, lemon juice, salt & pepper
It's so simple, many of you are probably already doing it. But my Aunt taught me her way of preparing salad over the holidays that was so yummy, I haven't stopped eating it since. Basically it's just a salad of Arugula (my new favorite thing), that you dress with a squeeze of fresh lemon, drizzle of olive oil, and sprinkling of salt & pepper. It's so easy, so fresh, so bright... i love it. She makes it with shaved parmesan over top so sometimes I'll sprinkle some nutritional yeast over top instead. As you can see, I have jazzed it up with some sauteed vegan chicken and pan-seared hearts of palm.