>> Tuesday, February 28, 2012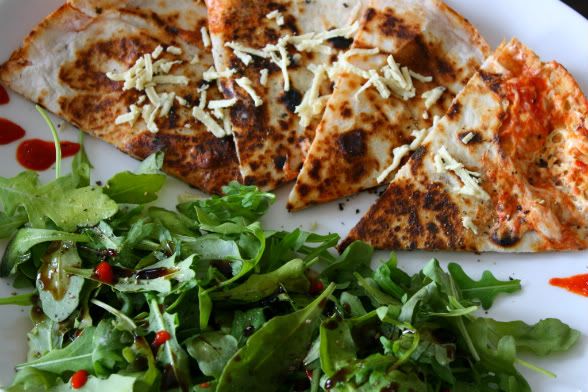 Level of Difficulty: you cant mess this up
Pots/Pans Used: 1

Ingredients

flour tortillas
Mozzarella Daiya cheese
tomato sauce of your choice
crushed red pepper (optional)
s&p

I know this is an incredibly simple recipe, but I figured I would share. For some reason, I had never thought to attempt this before. Essentially, this is the result of me only having mozzarella Daiya in the house but craving a quesadilla (like most people, I usually use cheddar). Obviously, you can get creative if you want and add veggies, this is just my lazy, "I dont really feel like cooking" version. Pretty much 1/4 of the way through eating this I thought, "This is amazing and I am making a second one right after I finish this!". So there ya go!... A quick snack that will have you thinking about getting seconds before you've even finished eating!




Just put a tortilla in a skillet over medium heat. Spread out tomato sauce, sprinkle cheese, a bit of salt & pepper, and maybe some crushed red pepper for heat. Then top with another quesadilla and flip until crispy and melty. Slice and enjoy!