>> Tuesday, March 27, 2012

Level of Difficulty: just measuring
Pots/Pans Used: two

Ingredients

2 cups flour
2 TBL baking powder
1 tsp cinnamon
1/2 tsp ginger
1/2 tsp nutmeg
1 tsp salt
1 cup sugar
1/2 cup vegetable oil
2 TBL molasses
1 TBL vanilla extract
1/4 cup water

coating:
sugar & cinnamon

Very rarely do I get the urge to bake. Although I love desserts (specifically cheesecake), I tend to have more savory cravings. But for some reason, I couldn't help but make cookies last night. So here they are... Just a simple recipe that will satisfy your sweet tooth. And yes, they are even Oliver approved.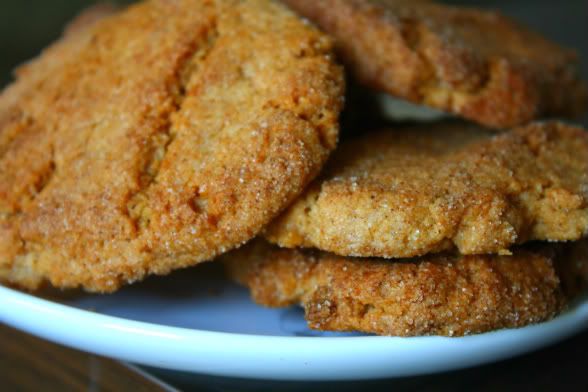 Preheat oven to 350 degrees. Spray baking sheet with non-stick spray. Mix together dry ingredients in a large bowl. Mix together wet ingredients in separate bowl and then add the wet ingredients into the dry. After you've mixed it up well, you can add some more water if it seems dry (I added about 1/4 cup more, but I recommend adding it gradually to be safe). In a small bowl, combine extra sugar and cinnamon together. Form dough into small 1 inch balls and them roll them in the sugar mixture. Place on baking sheet and press down with fingers. Bake for 10-15 minutes, then up heat to 450 and them bake a couple minutes until the tops brown a bit. Take them out to cool and them serve with a cup of hot tea!