>> Saturday, June 23, 2012

Pots/Pans Used: 1


Ingredients

1 box puffed brown rice cereal
1 3/4 cups agave nectar
3/4 cups peanut or almond butter
vegan chocolate chips
pinch sea salt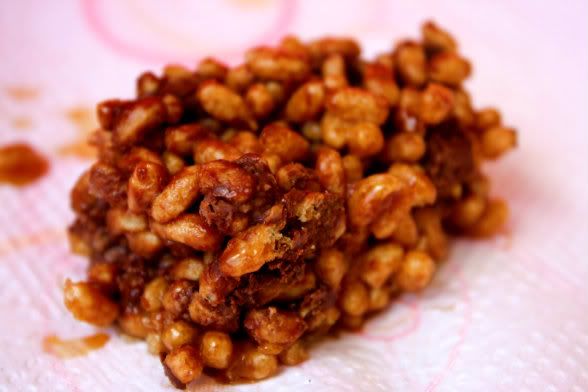 I got this recipe from Alicia Silverstone's, The Kind Diet. It's an excellent recipe if you're looking for something that is quick, healthy, AND satisfies your sweet tooth. I highly recommend giving this recipe a shot!

1. Heat agave and salt over medium heat until it liquifies

2. Stir in peanut/almond butter

3. In a large bowl, pour mixture over puffed cereal. Let it cool and then mix in your desired amount of chocolate chips

4. Spread out into a casserole dish and let them sit about an hour before cutting and serving. If you have trouble with them firming up, try placing them in the refrigerator.

Now it's only a matter of time before.... DUN DUN DUN....