>> Thursday, June 14, 2012

Pots/Pans Used: ZERO!


Ingredients

yellow corn tortillas
2 ears raw sweet corn
1 can black beans, drained
1 tomato, diced
juice of 1 lime
avocado, sliced
sriracha
cilantro (optional)
s&p to taste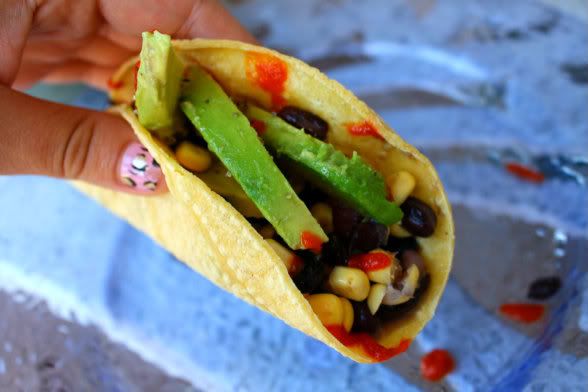 Um... Why has it taken me this long to appreciate raw sweet corn? It's so stinkin' good! I love this recipe because it's healthy, requires NO cooking, is super inexpensive, and best of all... It's totally delicious! I love the idea of making the filling in bulk to keep in the fridge for last minute lunches.

1. Combine corn, beans, tomato, lime juice, cilantro, and s&p in a bowl

2. Warm the tortillas and assemble the tacos, topping them off with avocado, hot sauce, and a bit of black pepper!