>> Saturday, September 19, 2009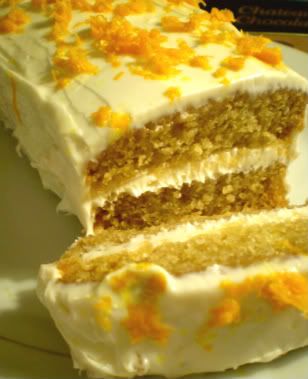 Level Of Difficulty: Easy as pie, except easier, and it's cake
Pots/Pans Used: NONE! well, maybe a utensil or two

Ingredients
1 Frozen Amy's Organic Orange Cake
1 tub of Pillsbury Cream Cheese Frosting (Caution: has been brought to my attention that this may contain milk now)
1 orange (optional)

So this recipe was recommend to me by my friend, Scott Armetta. It's a super simple solution to needing a quick dessert for a party (specifically, a small party) or just satisfying your sweet tooth. Plus, if you're vegan, you know that pre-made vegan baked goods are very hard to come by without taking a trip to Whole Foods. With this recipe, there is absolutely no baking involved! All you have to do is decorate (which is the fun part anyways). Amy's cakes can be found in your local Publix, so it's not a hard find. It also comes in a chocolate cake as well. However, for this recipe I prefer the orange cake and cream cheese frosting combo.

All you have to do is let the cake thaw, then cut it length-wise down the center. Put a layer of of frosting down the center, then stack the top of the cake back on. After that, you just frost the entire cake and top it with some orange zest. I don't think it get's much simpler than that. I kid you not, it took me about five minutes to make this delicious dessert!