>> Monday, September 6, 2010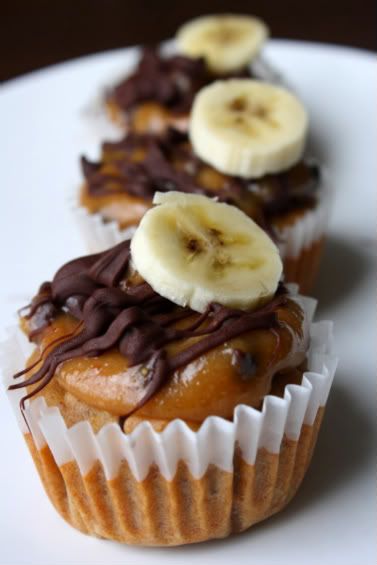 Level of difficulty: average as far as muffins go
Pots/Pans Used: 3 bowls!

Ingredients

1/2 cup agave nectar
1 1/2 tsp vanilla
2/3 cup water
1/3 cup vegetable oil or canola oil
1 tsp molasses
2 ripe bananas, mashed
1 tsp baking powder
1/4 tsp baking soda
1 1/2 cup flour

Topping:
1/2 cup peanut butter
1/4 cup & 1 TBL maple syrup
1/4 cup & 1 TBL unsweetened soymilk
1/4 cup flour
mini chocolate chips

Basically, I was watching Cupcake Wars on the Food Network and avoiding my sculpture project when the need to bake came over me. I had some super ripe bananas and very little baking ingredients so I improvised. The reason I call these muffins instead of cupcakes is because they came out much more dense than I was expecting. I'll probably try and tweak this recipe to get a more fluffy cake, but these were yummy enough that I decided I might as well share them with you. And if you're not a fan of peanut butter, the muffins are good enough by themselves!




Preheat oven to 350. In a large bowl, combine your flour, baking soda and powder. In a separate bowl, whisk together your wet ingredients (agave, vanilla, veg oil, molasses and mashed bananas). Then fold the wet ingredients into the dry ingredients. Lumps are okay, don't over mix! Next, fill the cupcake liners 2/3 full. Bake for 25-27 minutes, until they are cooked throughout. Let them cool. They will probably sink a little, but no worries!

As for the topping, combine all ingredients in a bowl and either whisk or blend to combine. The reason I added the extra TBL of maple syrup and soymilk is because that's what gave me the texture I wanted. But you can always start out with the 1/4 of each and see if you want to add more. Top the muffins and sprinkle some extra chocolate chips on top. If you want to make them look extra impressive, just melt some chips and then drizzle some chocolate on top and garnish with sliced bananas. Now demolish them!