>> Thursday, September 2, 2010

Level of Difficulty: easay
Pots/Pans Used: 2

Ingredients

Tacos:
1/2 onion, sliced
4 garlic cloves, minced
romaine lettuce
avocado, sliced
tomato, diced
1 can black beans
1/2 tsp Cajun seasoning
1/2 tsp onion powder
1/4 tsp paprika
1/4 tsp chili powder
1/4 tsp red pepper flakes
olive oil

Roasted Red Potatoes:
3 red potatoes, diced
2 TBL Earth Balance
4 cloves garlic, minced
1 tsp dried basil

"Sour Cream"*:
1/4 cup veganaise
1/4 cup cream cheese
s & p

*- Just know that I made this sour cream because I wanted to use what I had on hand. However, you can certainly just buy Toffuti's Better Than Sour Cream instead of buying the ingredients to make this version.

So I made this the other night when I had no tortillas, but I originally got the idea from raw taco recipes I've tried which use the romaine in place of a wrap. Obviously this version isn't raw but you could certainly tweak it if that's something you are interested in. This is just a jumping off point. Feel free to use whatever veggies you have on hand. I couldn't believe how full I got. In fact, it took all my will power to just finish the three of these. So you kinda get two recipes in one with this one. I had these red potatoes in my fridge so I decided to make them into a side dish. They were delicious with the sour cream on top! Keep in mind, this would be a good recipe for anyone who is gluten-intolerant.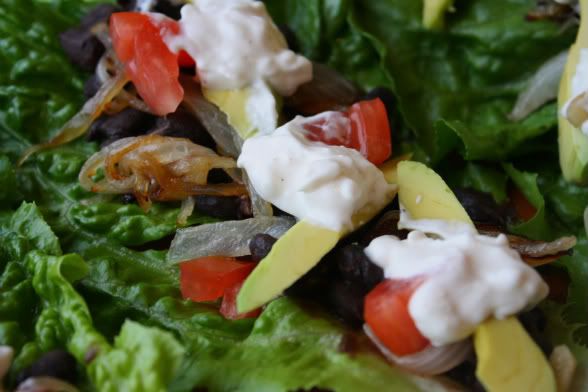 Empty the black beans into a medium-sized sauce pan and turn up to low-medium heat. Let the beans heat throughout and then add all the spices from Cajun seasoning thru red pepper flakes. Let them simmer a bit and let the spices combine. Meanwhile, heat some oil in a saute pan with the four cloves of garlic over medium heat. Add the onions and let them caramelize. Once they're done, set them aside and move on to making the red potatoes using the same pan...




Melt the Earth Balance in a medium-heat saute pan and add the remaining garlic (yes, this is a very garlic heavy meal). Once fragrant, add the potatoes and let them saute until they are cooked completely. At some point, go ahead and toss in the basil. If you choose to make the "sour cream"-like condiment, just combine all ingredients together. Serve up in romaine lettuce leaves and pile on all the toppings!