>> Tuesday, August 24, 2010
I've been compiling a few of my favorite, quickest recipes after getting a considerable amount of emails from people just getting into the vegan lifestyle that were a little intimidated by cooking. The truth is, cooking vegan food isn't harder than cooking any other type of food. Of course, some vegan cookbooks can be overly complicated and require a lot of specialty ingredients. It's no wonder you feel like you're entering into a whole new world and you don't speak the language. In all honesty, the only specialty ingredients that I think I ever have in my kitchen are nutritional yeast, agave nectar, Earth Balance and Daiya vegan cheese. Not everyone may find that they use those ingredients enough for them to become your constants, but you just have to search around a bit to find the ingredients that become staples for you when embarking into vegan cooking.

Unfortunately, the truth is that unless you live in a major city, eating out as a vegan isn't always convenient. So, it really is beneficial for you to learn to cook for yourself if you haven't already started. I know I really didn't start getting into cooking until about 2 years ago when I went vegan... I didn't even cook this much when I was a vegetarian. But the reality is, not everyone loves cooking or is particularly skilled at it. Here are some recipes that are really simple, can help to segue into vegan cooking, and can easily become staple meals for every week... I know they already are for me!

But wanna know the best news of all? They ALL only require one pot or pan!


Peanut Butter Cup Oatmeal



Pots/Pans Used: maybe one

Sad but true, I rarely ever get two minutes for breakfast. Usually I just pop Vans maple infused frozen waffles (vegan AND gluten free!!!) into the toaster and drizzle some agave nectar on top, throw a Luna bar in my bag on the way out the door, or just go without. I know, I need to work on that. Anyways, one morning when I had ten whole minutes for breakfast, I decided to make this jazzed up oatmeal. One of my besties, Lindsey Mills of Soul Food, specializes in what she calls "Fancy Oatmeal". She's mixing up oatmeal on a regular basis. I've had her carrot cake oatmeal and lemme just say, it was delicious. I decided to take a stab at it and came up with this super easy and quick breakfast, Peanut Butter Cup Oatmeal.

All you need is oatmeal and.... Dark Chocolate Dreams (peanut butter blended with rich dark chocolate) You can find it in most health food sections at Publix.




Prepare oatmeal according to instructions and then add 1-2 TBL of the chocolate peanut butter spread and mix up. That's all. If you're looking for other ways to use this spread, it's great on a slice of toast or for dipping strawberries in.

Pizza



Pots/Pans Used: maybe one

Pizza is one of the easiest things to make for dinner. Plus, it's fun to make with your significant other on a cozy night in. Or if you have kids, let them pile the toppings on so they feel involved. The nice thing about making pizza is that you can really work with what you've got. All you really need is pizza dough which you can pick up in the bakery section of most grocery stores (Pillsbury brand of pizza dough is vegan too), a jar of tomato sauce and various veggies.

For this pizza, I first rolled out the dough, and pre-baked in a 450 degree oven for about 5-10 minutes. Meanwhile, you can saute whatever veggies you want to use. In this case, I sauteed some mushrooms with soy sauce and garlic, added some artichokes and topped with kale (which gets crispy as it bakes!). Take the dough out of the oven, spread out tomato sauce, sprinkle some Daiya mozzarella cheese on top (optional!), and pile high with veggies. Bake in the oven until the cheese melts or the crust seems thoroughly cooked. By the way, I HIGHLY recommend getting a pizza crisper. I got one as a Christmas gift and it really gives you a crispy crust that just can't compare with a regular baking sheet. But by all means, if you're just testing the waters, use the baking sheet!

Spanish-Inspired Grits



Pots/Pans Used: one

When I REALLY don't feel like cooking or am short on time, I make grits. Usually I just season with a little butter, nutritional yeast and s&p. Then I serve vegetarian baked beans and sauteed kale on the side. And if I'm really lucky, I have some veggie bacon in my fridge to toss in the mix. But let's get real, I'm never that lucky. The other night, I didn't have baked beans, but I did have black beans... so I decided to make Spanish-Inspired Grits. This certainly isn't the prettiest dish I've ever posted, but that's no indication of how it tastes. I was actually surprised by how yummy it was!

You'll need:
grits
3 TBL veganaise
3 TBL Earth Balance
4 tsp taco seasoning
2 TBL nutritional yeast
1 can black beans, drained
s&p to taste

All you have to do is cook the grits according to their instructions, then add the butter and veganaise and mix well. This will get it nice and creamy. Then mix in the taco seasoning and nutritional yeast. Finally, add the drained black beans and season with salt and pepper. Done and done!

Sushi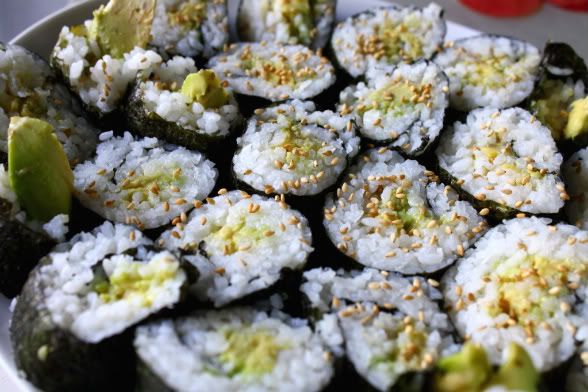 Pots/Pans Used: one!

Making sushi is so much easier than you think! It seems like a really intimidating endeavor but seriously... it's actually kind of a no-brainer type recipe. I'm kind of a Japanese food freak and I could easily eat sushi every day of the week. My favorite roll? just a simple avocado roll. Seriously, you can't go wrong. However, the nice thing about sushi is you really can get creative and fill it with your favorite ingredients. All you have to actually cook is the sushi rice and the rest is assembly. I swear it's easy! Here is a previous sushi post that provides an instructional video on how to roll your own sushi.

You'll need:
nori sheets
sushi rice
sesame seeds
bamboo mat
saran wrap
veggie filling


Onion Dog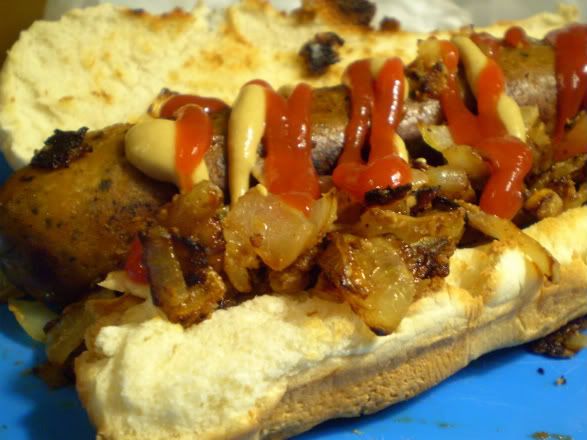 Pots/Pans Used: one

You'll Need:
Smart Sausages (Italian Style)
bun
onion
mustard
condiments

This is a great, quick lunch if you're craving something filling but want to put forth minimum effort. Dice up some onion and saute it with olive oil over medium heat until they begin to caramelize. Add some Dijon mustard and coat the onions in it (optional if you don't like mustard). While the onions are being taken care of, you can toast the hot dog bun. Set aside the onions and saute the sausages in the same pan. Just top the sausages with the onions and whatever condiments you like!

Quesadillas



Pots/Pans Used: one

This is absolutely the easiest of my recipes and the one I make most often. Sometimes I just crave that melty cheesey goodness that you rarely get on a vegan diet. This is when I turn to my trusty quesadillas. I can't deny it's been my favorite midnight snack on more than one occasion. All you do is place a tortilla in a pan, pile high with Daiya cheddar cheese, shake some hot sauce and garlic powder on top then sandwich with another tortilla. Let it get crispy on both sides and let the cheese melt completely. That's it!

Hope that was helpful! Even if none of these recipes suit your fancy, most of the recipes on this blog are just as easy. Good luck cooking vegan :)