>> Saturday, September 25, 2010

Level of Difficulty: reaaaalll simple
Pots/Pans Used: 1!

Ingredients

NUTRITIONAL YEAST***
3/4 cup almond milk
1/4 cup Earth Balance
2 TBL flour
1/4 tsp salt
1/4 tsp onion powder
pizza dough
Daiya mozzarella cheese
Gardein seven grain crispy tenders, chopped

***I'm sorry to anyone who already made this, I made this pizza today and realized I forgot to say to add nutritional yeast. Add it after the milk. I would say to start out with a couple tabelspoons at a time until it reaches the desired texture. If it gets too thick, no worries! Just add some more milk!

The fact that I can't even look at the pictures I took of this pizza without letting out little shrieks and groans of longing speaks volumes to how GOOD THIS IS! Before I was vegan, I loved white pizza with white sauce. Until my friend, Tess, made me the pizza the other night it had never even crossed my mind to veganize it. Considering there are like... no vegetables on this pizza you might wanna make a super veggie-heavy side dish because the last thing you wanna feel while eating this is guilty. Seriously, it's just too good to not enjoy to the fullest extent. But by all means, pile the veggies on. It's entirely your call!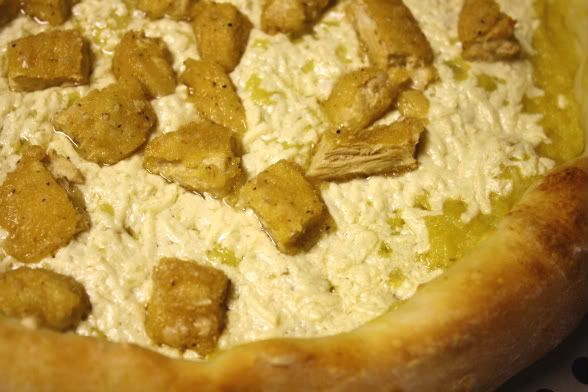 Preheat oven to 425. In a saucepan on low-medium heat melt the Earth Balance. Then while whisking, gradually add the flour. The flour will soak up the butter and begin to clump up. Then add the almond milk gradually and then the nutritional yeast until it becomes the consistency of a thick cheesy sauce. Roll out your dough so that it is the desired size and then spread the white sauce on as if it were tomato sauce. Top with mozzarella and the chopped crispy tenders. (I microwaved the tenders for a minute and then chopped them). I baked mine on a pizza crisper and it took about 15 minutes or so. I don't think the time would be affected that much if you're using a baking sheet but just keep an eye on it and REMEMBER to oil the pan first otherwise the pizza will be impossible to get off. I am speaking from experience. And the last thing you want is deliciously smelling ooey gooey pizza that you can't eat because it has conjoined with a large metal rectangle. And if you can believe it, I think it actually tastes even better the second day.