>> Sunday, October 3, 2010
So this weekend, my friends, Scott and Eva, visited me for the first annual Tampa Bay Veg Fest...




Luckily, there was an awesome turn out and some really yummy food to boot. It took place at the Curtis Hixon Waterfront Park right in downtown Tampa. It was a really great location because it was on the water... plus dogs were welcome (so Oliver made some friends)! Anyways, I thought I would share some of the food we ate because it was pretty great.

Okay, so we started out at the Grass Root's booth, which is an all vegan restaurant in Tampa. I need to do a food review of them sometime! We got a BBQ sandwich with spicy mayo and a side of quinoa tabbouleh... it had a nice amount of spice and I had never seen quinoa in tabbouleh before. Both ended up being really delicious!




and curried potatoes (so good and smokey!)




Naturally, we couldn't leave without trying some sweets from Sherrel White, the Healthy Chef and up and coming vegan baker in Tampa. We tried these mini peanut butter cheesecake bites (with a layer of chocolate and a nutty crust). They were SO GOOD! If only they weren't mini!... and uh, how adorable is my food model, Eva?!




And a gluten-free vanilla cupcake with chocolate frosting




We topped the experience off with an unbelievably yummy pumpkin ice cream from Three 2 OH. I have to say, Fall flavors are probably my favorite. This thing seriously got my wheels turning. I need to figure out how to make this now that we're entering Fall. Mmmm mmm mmmm!




And just in case you still aren't sold yet on how good the food was... check out Oliver who could hardly help himself from jumping on the table and digging in!




Overall, it was a really great experience full of good people, dogs, and food.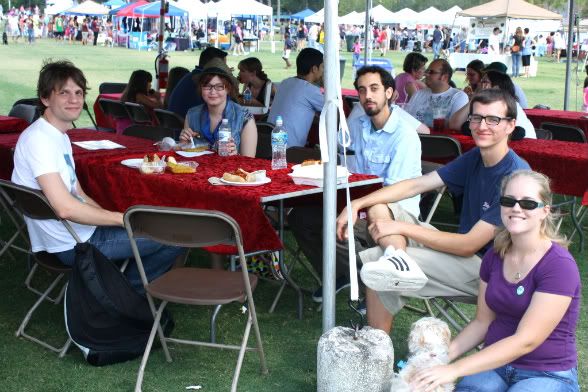 Anyone else have a really good veg fest in their area coming up? Next year I hope to have my own booth and maybe sell some baked goods and VP t-shirts. We'll see if I can get my act together in time. I'll let you know!

In summation, GO TAMPA!