>> Tuesday, October 12, 2010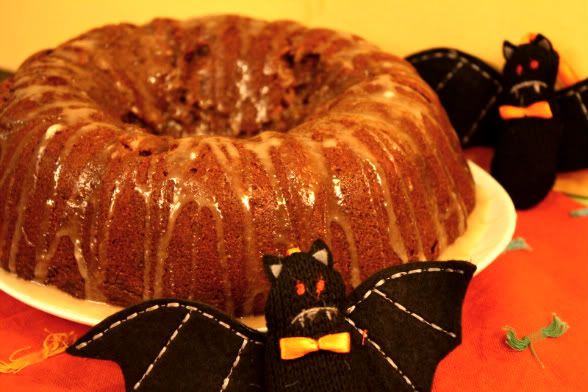 Pots/Pans Used: Basically two plus measuring utensils
Level of Difficulty: As long as you enjoy measuring, it won't feel like work!

Ingredients

1 1/2 cup vegetable oil
3 cups flour
3 teaspoons baking soda
1 1/2 teaspoon baking powder
1 1/2 teaspoon salt
1/2 tsp ground all spice
2 tsp cinnamon
1/4 tsp nutmeg
1 cup apple sauce
1 1/2 teaspoon vanilla
2 1/2 cups shredded carrot
1 1/2 cup pumpkin
2 1/3 cups dark brown sugar

Glaze:

1 cup powdered sugar
1 tsp vanilla
maple syrup
soymilk

So, I haven't been posting as often and that's actually not at all because there is a lack of cooking going on in my kitchen. In fact, I've been experimenting a lot lately. But in all honesty, everything has turned out to be kind of disappointing. Regardless, I hope you'll find that this recipe will make up for lost time! Moving on.... After that delicious pumpkin ice cream I had at Veg Fest, I have totally been in the Fall spirit. I mean, there's barely so much as a breeze here in Florida, but that doesn't seem to stop me. It's all cinnamon tea, pumpkin bagels and fall-scented candles in my apartment. I got some great suggestions on VP's facebook on ways to experiment with pumpkin and Heather White suggested that I try a pumpkin carrot cake. This turned out to be the perfect idea, because I have a monstrous bag of carrots in my fridge left over from my food sculpture that I don't know what to do with. So this recipe is loosely based off of Blake Martin's carrot cake recipe over at Blake Bakes. She suggested that maybe I sub in the pumpkin for pineapple in order to keep the moisture. Now, while this cake turned out to be hella dense, it's also hella moist so watch out! Paired with a maple glaze and you're totally set to go! Yay for Fall!




Preheat oven to 350. Grease your bundt cake pan and add some flour. In a large bowl, combine flour, baking soda & powder, salt, cinnamon, allspice and nutmeg. Then add the brown sugar, oil, apple sauce and vanilla. With a wooden spoon, mix it until its completely combined. It will be very thick and very un-cake battery-like but don't worry! Then add the shredded carrot and pumpkin and mix well. Spoon into the cake pan and spread out evenly. Because it is so dense, it takes a long time to cook throughout. Mine took about 1 hr and 15 minutes to bake. My recommendation is to just keep an eye on it and at around 50 minutes of being in the oven, try sticking a tooth pick to see if it comes out clean every now an then. Once that happens, you can take it out of the oven to let it cool. I'm not sure if it's because I didn't let mine cool long enough (probably), but I had to do a little reconstructive surgery on mine as it fell apart a bit on the top. I would just recommend letting it cool completely before popping it out of the tin. In the meantime, you can start on the maple glaze. In a bowl, combine one cup powdered sugar with the vanilla. Gradually add maple syrup to get it to thicken up. If you feel it is too thick, add a little soymilk. If it's too thin, add more maple syrup. Continue this process until it's the consistency you're looking for... almost like honey. Drizzle it over the cooled cake and that's all!





If you want to make cupcakes, I set aside batter in order to make two cupcakes so that I could get an idea of how the batter would work as a cupcake and how much time they would need to bake. it took about 30-35 minutes (again, it's a dense cake), to cook throughout. I recommend topping them with a spiced cream cheese icing. All that entails is just adding allspice into the your favorite cream cheese frosting recipe to give it some Fall flava. Then you can sprinkle with some cinnamon after frosting the cupcakes. Ta da!