>> Wednesday, February 23, 2011

Level of Difficulty: Some measuring required
Pots/Pans Used: 2

Ingredients

2 1/2 Bananas, mashed (I got about 2/3 cups plus 2 TBL when mashed)
3/4 cup Brown Sugar
1/2 cup Earth Balance
5 TBL French Vanilla Soy Creamer
2 cups Bread Flour
1/2 tsp Baking Soda
1/2 tsp Baking Powder
1/4 tsp Salt
1/2 cup chopped nuts (i used hazelnuts!)

So I actually have been cooking quite a bit lately despite the lack of updating. This is one of my newest creations I whipped up by modifying my Grandmother's famous banana bread recipe. The texture is perfect... not too dry and just moist enough. Would be ideal with some Earth Balance or Jam. Stay tuned because I'm currently conceptualizing a vegan "ricotta"-stuffed banana bread french toast... mmmm!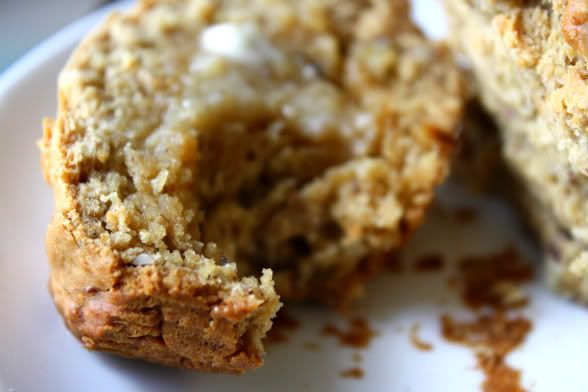 Preheat oven to 350. With a mixer, cream together your sugar and Earth Balance. Then add the mashed bananas. In a separate bowl, combine all your remaining dry ingredients. Then gradually add the dry ingredients into the wet. Next add the creamer. Fold in the nuts. Pour into a greased bread loaf pan and bake for 1 hour.