>> Tuesday, October 18, 2011

Level Of Difficulty: easy
Pots/Pans Used: 2

Ingredients

Extra Firm Tofu
2 tbl maple syrup
1 tbl soy sauce
few squirts liquid smoke
1/4 c water
3 tbl Earth Balance
2 tbl flour
unsweetened almond milk
pinch of salt, pepper, red pepper flakes, paprika, chili powder
nutritional yeast
kale
tomato

This is sorta like an Eggs Benedict meets Eggs Florentine... sorta. It's yummy regardless of what you call it. To keep it light and healthy, I replaced the bread with a tomato slice but it's up to you!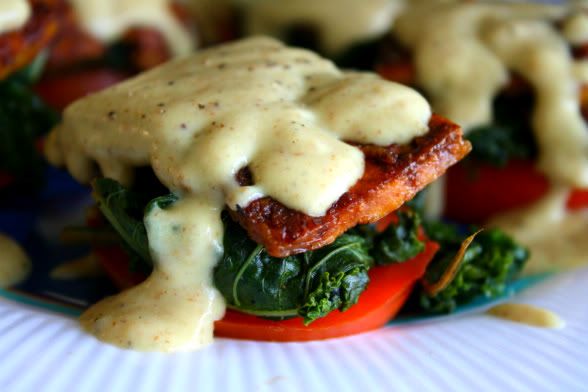 You start by pan-searing your tofu. I only used about 3/4 of the package. Cut the tofu into thin slices and then place them in an oiled pan over medium-high heat. Brown both sides. Combine maple syrup, liquid smoke, water, and soy sauce. Spoon over the seared tofu and let the sauce thicken and thoroughly coat the tofu. Once that's done, set it aside. Then throw some washed and torn kale into the pan. Season with some salt & pepper. Once the kale is steamed and softened, it's done. To make your hollandaise sauce, melt some butter in a sauce pot over low-medium heat. Then whisk in your flour. Gradually whisk in your milk until it thickens up to the desired saucy consistency. Add as much nutritional yeast as you want (I usually do about 2 tabelspoons). Add a pinch of s&p, red pepper flakes, paprika, and chili powder. Now that all the components are done, it's time to assemble!

Take a slice of tomato, then top with the kale, then tofu, then drizzle the sauce on top. Now dig in!