>> Sunday, November 20, 2011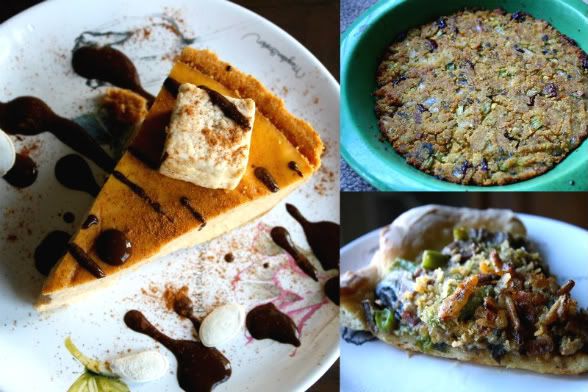 Being a vegan on holidays isn't always the easiest. Luckily, I have a very accomodating family that makes sure I'm always well taken care of at the dinner table. However, if you're the only vegan at the table, don't settle for just bread and grilled veggies... cook your own dishes and show everyone just how decadent being a vegan can be! These are a couple of recipes I whipped up that are sure to please both vegans and omnivores alike...

Green Bean Casserole PIZZA



Level of Difficulty: time management required!
Pots/Pans Used: 3!

Ingredients

pizza dough
3 pieces chopped Smart Bacon
1 heaping cup chopped fresh green beans
8 0z sliced mushrooms
2 TBL white wine
1 shallot, minced
2 garlic cloves, minced
1 TBL fresh chopped sage leaves
1 TBL Earth Balance
panko bread crumbs
french fried onions
pinch salt, pepper, & thyme

Sauce:
2 TBL Earth Balance
1 TBL flour
3/4 cup unsweetened almond/soy milk
2 TBL nutritional yeast
pinch s&p

Originally this was going to be a traditional green bean casserole and then I realized... why not put it on a pizza? I couldn't come up with a good enough reason to not try it, so I went for it. And I am sincerely glad i did. Unfortunately, for a lot of vegans, Thanksgiving dinner just means eating a hodgepodge of various sides, but this is a great way to turn a side into something more substantial and filling.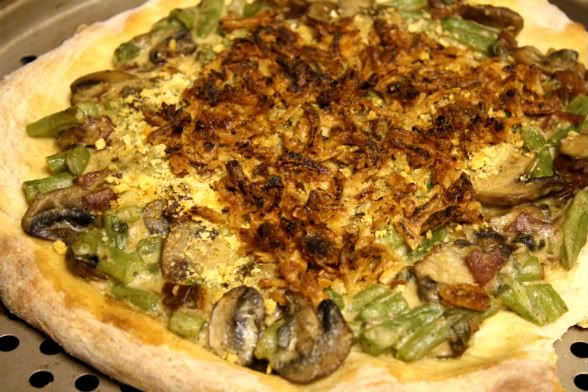 Preheat oven to 450. Roll out your dough and place it on either a pizza crisper (ideal) or a well greased baking sheet. Precook the dough in the oven for about 5-10 minutes or until golden. Then take it out. Meanwhile, start out by melting the Earth Balance in a skillet over medium high heat. Add the smart bacon and shallots. Let them cook a couple minutes and then add the garlic, sage, salt, pepper, thyme, and mushrooms. Once the mushrooms begin to sear and release their liquids, add the white wine and cook another couple minutes. Meanwhile, toss your green beans into a pot of boiling water and cook for 6 minutes. Drain them and run a little cold water over them so that they stop cooking. Add the green beans into the skillet with the rest of the vegetables and lower the heat while you make the sauce. Melt 2 TBL Earth Balance in a sauce pan over medium high heat and then whisk in the flour. whisk in the milk a little bit at a time as it thickens up into a nice sauce. Add the nutritional yeast and s&p to taste. Pour over the vegetables and stir well. Spread the mixture onto the precooked pizza crust and then top with a sprinkle of nutritional yeast, panko, and french fried onions. Bake in the oven for 10 minutes.

per usual...



Cornbread Stuffing




Level of Difficulty: simple!
Pots/Pans Used: 2ish!

Ingredients

2 cups dry cornbread cubes
2 tbl fresh chopped sage leaves
2 tsp thyme
1 cup celery, chopped
1 cup onion, chopped
3 cloves garlic, minced
2 TBL nutritional yeast
1/2 cup vegetable broth
1/4 cup warm water + 1/4 cup dried cranberries (optional)
1/4 tsp salt
1/4 tsp pepper
olive oil

As a result of being the only vegan at the thanksgiving table, I usually end up making single servings of sides for myself so this is a relatively small batch of stuffing. It should easily feed three people, but if you're feeding a large vegan group (which is GREAT!), I recommend doubling or even tripling it. Okay, full disclosure... I've never really been a stuffing girl. But after making it, and possibly really trying it for the first time, I don't know what was wrong to me. It's so comforting and homey... I finally understand why it's a classic. I bet this recipe would also be great with some diced apples tossed in.




Preheat oven to 350. You're going to want to make your cornbread a day ahead of time so that it gets a chance to dry out a bit. I went the easy route and used a package of Betty Crocker's Cornbread & Muffin Mix, but it shouldn't be too difficult to make from scratch either. Put your dried cranberries into a cup of warm water and set aside to soak. Dice up the cornbread into bite sized pieces. Heat some olive oil in a skillet over medium high heat. Add the onion and celery. Cook for five minutes and then add the garlic, thyme, sage, salt, and pepper. Cook another few minutes until fragrant. Add the cranberries (with the water), and cornbread. Gradually mix in the veggie broth. Transfer the stuffing into a greased baking dish. Bake in the oven for 25-35 minutes or until golden on top.

Cinnamon Swirl Pumpkin Cheesecake




Level of Difficulty: requires self control
Pots/Pans Used: 1 blender

Ingredients

2 8oz cartons of Tofutti Better Than Cream Cheese
1/4 almond/soy milk
2/3 cup pumpkin puree
1/4 cup agave nectar
1/2 tsp cinnamon
1/8 tsp allspice
1/8 tsp ginger
1/8 tsp nutmeg
2 tsp vanilla
2 TBL cornstarch
1 9" precooked pie crust

Cinnamon swirl:
1 tsp cinnamon
1/8 tsp allspice

I got an email from a VP reader who specially requested a pumpkin cheesecake. So Gincy, I hope you and your family enjoy this as much as Oliver and I did! I think it came out pretty awesome if I do say so myself.




Preheat oven to 350. Combine cream cheese, pumpkin, milk, agave, 1/2 tsp cinnamon, 1/8 tsp allspice, 1/8 tsp ginger, 1/8 tsp nutmeg, and vanilla in a blender or food processor. Blend until smooth and then blend in the cornstarch. Pour batter into the pie crust, leaving about 1/2 cup in the blender. Blend 1 tsp cinnamon and 1/8 tsp allspice into the remaining batter. Pour into the rest of the batter and quickly swirl it throughout with a spoon. Bake in the oven for 45 minutes. Once golden brown, take it out to cool completely. Then transfer it to the fridge to sit for at least an hour... or until you just can't stand it anymore :)




Well, Happy Thanksgiving everyone! I hope with these recipes you can show off how tasty cruelty-free food can really be!

Post a comment below about what your menu is going to be this year, or better yet, post a picture of your creations on our facebook page.