>> Sunday, May 20, 2012

Pots/Pans Used: 2


I have always wanted to try pairing an apple slaw with barbeque. These sandwiches are quick and easy, but are an exciting substitute for the boring PB&J (no offense, pb&j!). Instead of doing a creamy, mayo-based slaw, I wanted to keep it simple and cost-friendly by using soy milk and tahini for creaminess. All in all, I really didn't miss the mayo at all. This recipe makes a lot of cole slaw too! So you can eat it throughout the week, share with friends, or gobble down all at once... up to you. Either way, I bet you're gunna looooveee iiittttt ;)


Ingredients


Sliced Bread
Crispy Gardein Chick'n
BBQ Sauce
2 Granny Smith Apples, julienned
1/2 Red Cabbage, shredded (4 cups)
3 Carrots, peeled
6 Tblsp Vinegar
6 Tblsp Olive Oil
6 Tblsp Soymilk
2 Tblsp Deli-Style Mustard
2 Tblsp Tahini
1/2 tsp salt
1/2 tsp pepper

1. First you're going to want to make your apple slaw. Yes, it is a lot of prepping and chopping but it'll be worth it. Plus, red cabbage is so gorgeous, it almost doesn't feel like a chore... maybe?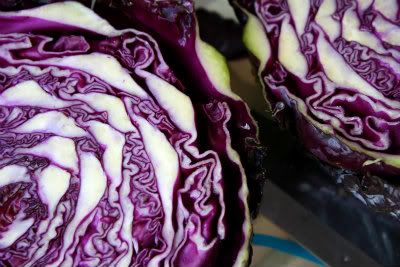 before!




after!




2. Combine carrots, cabbage, and apples in a large bowl. In a small bowl, whisk together ingredients vinegar - pepper. Pour over the slaw and mix well. Ta da!

3. The sandwich part is pretty self explanatory. I toasted some bread and then prepared the crispy chick'n according to the package instructions. Instead of using the marinara sauce it comes with, I brushed some BBQ sauce on either side.

4. Assemble sandwiches and serve at an outdoor gathering!