>> Tuesday, June 5, 2012

Pots/Pans Used: 2
Ingredients

Pici (or any pasta you wish)
2 Field Roast Smoked Apple Sage "Sausage" Links, diced
1 shallot, diced
2-3 cloves garlic, diced
1 1/2 Tblsp. Earth Balance
2 Tblsp. flour
1 1/4 cup unsweetened original soy milk
3 Tblsp. nutritional yeast
2 Tblsp. olive oil
fresh basil
s&p to taste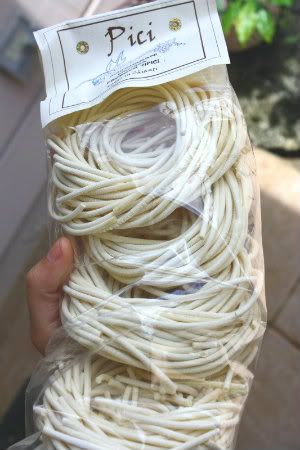 My friend, Blake, recently went on a trip to Italy and brought me back a package of this pici pasta. It's essentially like a really thick spaghetti that you boil for TWENTY minutes! Anyways, it was awesome. And yes, I understand not everyone can have fancy authentic Italian pici pasta at your fingertips so feel free to sub any pasta you wish!

1. Once your pasta is cooked, set it aside and drizzle a bit of olive oil over it and mix up so that it doesn't get gummy while you make the ragu.

2. In a skillet, heat olive oil over medium heat and saute the shallots. After a couple minutes, add the garlic and sausage. Once browned, add some fresh basil in the mix.

3. In a sauce pot over medium heat, melt Earth Balance. Whisk in flour and then gradually whisk in soy milk until it thickens to an alfredo sauce-like consistency. Once perfect, mix in nutritional yeast and salt & pepper to taste.

4. add sausage mixture into the sauce and stir well. Pour Ragu over top of the pasta and garnish with some fresh basil!