>> Monday, May 14, 2012

Pots/Pans Used: 2


This is a great hearty soup with a kick. If you want to cut down on the heat, you can leave out the red pepper flakes. But I have to say, if you like a bit of spice, you'll love this soup! It's definitely one of my favorites to date.

Ingredients

5 Gardein Chick'n Scallopini Cutlets
17.5 oz mini potato gnocchi
3 cups baby portobello mushrooms, sliced
1 1/2 cups sliced carrots
1 large onions, diced
1 sweet potato, diced (about 2 cups)
8 cups vegetable broth
14.5 oz can diced tomatoes with mild green chilies
2 Tblsp olive oil
1 Tblsp Earth Balance
1/4 tsp cardamom
1 tsp curry powder
1/2 tsp cumin
2 tsp soy sauce
1/4 tsp crushed red pepper flakes
black pepper
lemon juice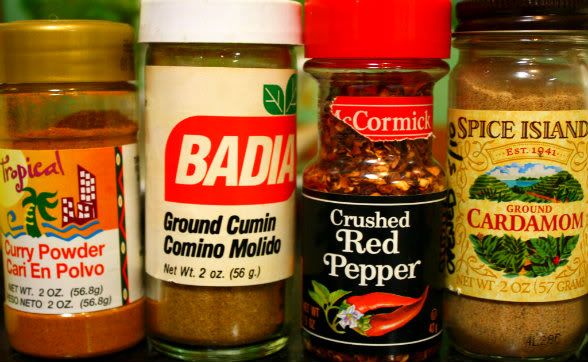 1. In a hot skillet, melt the Earth Balance, and then saute chick'n until golden brown. To flavor the cutlets, squeeze a little lemon juice and sprinkle a dash of black pepper over them while cooking. Once they're done, chop them up and set aside while you prepare the rest of the soup.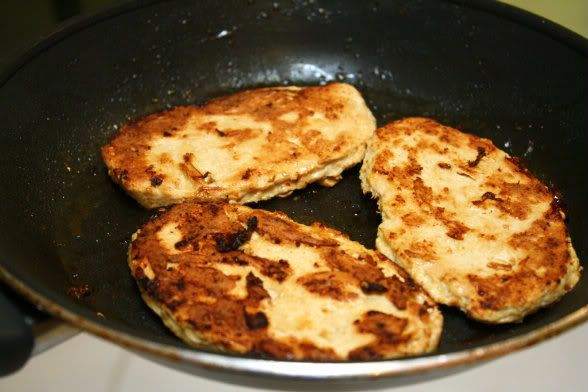 2. In a large stock pot, saute onion and mushrooms in olive oil over medium heat. Let them cook down for a few minutes and begin to brown.

3. Next, add the carrots and sweet potatoes and cook an additional 5 minutes.

4. Add the chopped chick'n, drained tomatoes with chilies, cardamom, curry powder, cumin, red pepper flakes, and 1/4 tsp black pepper. Stir well and let flavors combine a few minutes.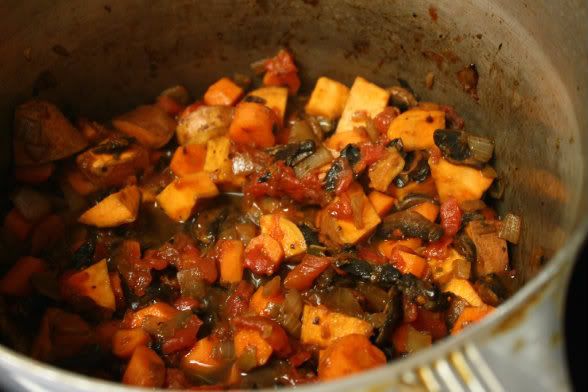 5. Add the vegetable broth and let soup simmer for 15-20 minutes.

6. When you're ready to eat, add the package of gnocchi. It only takes a couple minutes to cook. Once they rise to the surface, they're ready!




7. Last but not least, add a Tblsp of lemon juice, to brighten up the soup a bit!

8. Serve up with a slice of toasted bread!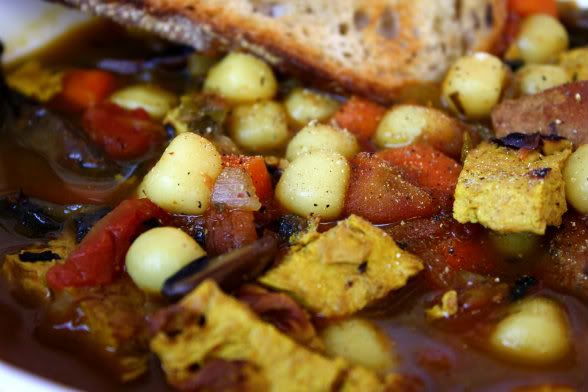 If you want, top with a a bit of black pepper and sprinkling of nutritional yeast!