>> Saturday, February 20, 2010
So before I go into the recipe, I wanted to share a few personal stories with you. First, I just finished reading Alicia Silverstone's book, The Kind Diet last night.


The first half of the book is a little over 130 pages of literature and the other half of the book is full of yummy looking recipes which I will hopefully try and post in the future. The book starts by talking about the benefits of a "kind diet". She also breaks down how to meet all your nutritional needs which I found really helpful. Its a very user-friendly book and was jam packed with everything I could possibly want to know. Then, she sets out plans for three different approaches:
Flirting
(for those testing the waters, but aren't looking to make any commitments),
Going Vegan
(self explanatory) and finally,
Superhero
(which is a combination of a vegan and macrobiotic diet). Since going vegan, I may feel like I'm eating more ethically, but I haven't felt particularly healthy and I'm pretty unhappy with my body. Therefore, I'm going to do my best to become a superhero, cutting out white sugar, flour and highly processed foods and focusing more on protein, grains and vegetables. I can't tell you how excited I am to start making healthier decisions in my cooking. In celebration of my new endeavors, my boyfriend and I had an awesome and guilt-free meal consisting of fancy grapefruit cocktails and chips n'
guac
. That was followed by tempeh enchiladas, corn on the cob and a heaping pile of
kale chips
(my new fave!). Anyways, I figured I would let you know about my new plans because it will most likely be represented in the recipes I post.
On a side note, I would like to take this opportunity to talk about a gift I received for valentine's day.... a box of vegan chocolates by
Rose City
and OH. MY. GOD!!!!!!! They're particularly cool because all the sugar used in making these chocolates is processed from the sugar beet!
I've been trying to ration myself one chocolate a day, but three is proving to be more realistic. They are incredibly delicious and I totally foodgasmed over the strawberry cream. F'real... check it out and buy yourself some ASAP! I couldn't be happier.
Okay, now on to what we're all here for (not being done much justice by this picture):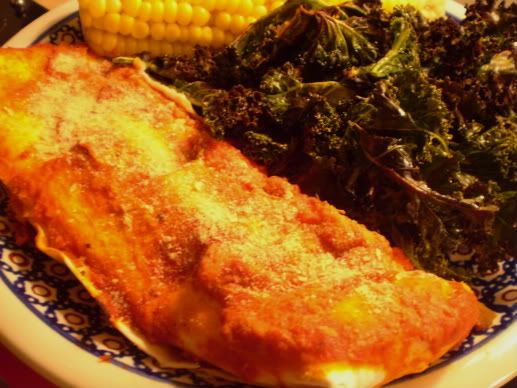 Level of Difficulty: some assembly required
Pots/Pans Used: 3
Ingredients
1 pkg tempeh
1 can diced tomatoes with green chiles, drained
1 packet taco seasoning
1/2 onion, diced
2 garlic cloves, minced
1 can beans of your choice (I used vegetarian refried beans)
flour tortillas
nutritional yeast to garnish (optional)
1 jar of any tomato sauce
This recipe was shared with me a long time ago by one of by bffl's,
Lindsey Mills
. I have made it numerous times since and it is seriously soooooo good. It's nice and mildly spicy not to mention suuuuper hardy and filling!
Preheat oven to 350. In a large saute pan, saute the onion and garlic with a little olive oil until fragrant and translucent. Add the can of tomatoes and crumble in the tempeh. Mix in the taco seasoning and let it all incorporate for about 5-10 minutes. In a separate sauce pan, let your beans heat up. Once the beans are hot and the tempeh mixture is settled, start assembling your tortillas. I like to spread the beans on first and then add the mixture. Roll it up, and place in a casserole dish. Repeat. I was able to fit five enchiladas in a casserole dish. Pour the tomato sauce over the enchiladas. You don't need the whole jar, just enough to cover them evenly. Put in the oven for about 15-20 minutes. That's it! if you really wanna go wild, try adding some vegan cheese and sour cream :)